A Four Year Old and a Net
April 29, 2013
Growing up on the lake, I have a lot of fond memories. Catching my first fish will always be the best childhood memory that I have, because it started a tradition between my father and I.

My mom had always loved sunsets, especially if they are over a body of water. On a summer day, my dad was fishing on our dock; my mom took me down to watch the sunset. Since I was only four years old, I couldn't see the beauty in it. Now looking back I can picture it just perfectly- the sun was half way under the pine trees in a half spear of glowing orange light. The sky around it was a pinkish-purple that lead into a darker yellow and far in the distance, it turned into black. The low sun had cast a shadow on the lake that mirrored it almost perfectly, except the calm ripples of water moving it ever so slightly. My dad set down his fishing pole and walked over to the far left side of the dock and said,

"Ken, look over here at this school of fish." I wandered over there, ignoring my mom telling me to stay away from the edge of the dock. After a couple minutes of my dad trying to point out the fish, he walked over to sit by my mom. Finally I saw a couple little fish swimming around the pole of the dock. I grabbed a net that was next to me.

"McKenna, be careful! Greg, you should probably help her." My mother insisted. She used my full name, so I knew that I had to listen to her. My dad walked back over, and stood next to me. Every time the net got close to a fish, it would swim away! They were too fast for my little arms to keep up with. I tried over and over again, but nothing ever worked. I spotted one, a small fish, all by himself. I slowly crept the net up behind it, thankfully the fish didn't move. Once I got close enough, I pulled the net forward in a swift motion. I heaved the net up and out of the water. All there was, was a big clump of slimy weeds. Disappointment washed through me.

"Common Kenna, we should go back up to the house now." My mom advised. My dad started to clean out the net, my dad said,
"Ken, look here! You did catch a fish! He was just in all the weeds." My dad brought it over to me, and showed me how to properly hold it. My mom was completely disgusted; she hates fish. It was a small little sunfish, that was a little bit bigger than my hand. I remember when I petted it, it was so slimy, almost what you would think a snake felt like, not a fish.
I will never forget that night. I still ask my parents about it once in a while, to see if they recall it ,which they both do. I really wish they would have brought a camera. I can picture myself, standing on the dock, smiling my big toothless smile, with my long blonde curly hair, proudly holding that fish. Ever since then, my dad and I have that in common, we both love fishing. Almost every night during the summer, we go fishing right at sunset on the same dock. It's the small things like this that make the best memories.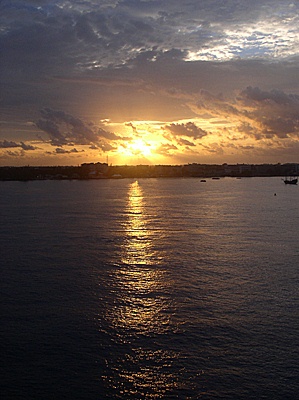 © Rebecca Y., Los Angeles, CA