The College Game
MAG
April 2, 2013
The poor mailman is a martyr for my college search. Since I scored high on the PSAT, colleges are sending me stacks of thick, glossy brochures. I won and now I'm lost. Smiling, sunny, happy catalog pictures. Fountains and ponds always featured. Michigan State's viewbook bears a shiny compass. Compass? I've already got a compass: U of North Dakota, Northeastern, Northwestern, U of Southern Cal. Take that, Michigan State.

"Opportunity is knocking," they say. Nope, that's just the mailman. "Dare to dream." This ain't a dream, sweetheart. That four-year dream you're promising, it won't
start for another year and a half (happening so fast, too fast). "We are intellectually stimulating, enthusiastic, unique" – yeah, that's what they all say. Cut to the chase, SHOW ME THE MONEY.

Last page. Tiny print. Cost of attendance. Make it pretty, put on an acronym-pseudonym, call it COA – I call it cost of ATTACK. Heart attack. No worries, don't need a heart for decisions, only a brain; but the brain just checked out. Never mind, that money nightmare can wait 'til after the dream ends, and the dream starts when reality stops and reality is now.

Drive, drive, drive to southern California for college visits. The road is long and the tours are longer. Buildings: enormous red brick, modern glass-and-steel, square stucco with red-tile roof. Walk and talk – no, walk and listen, the tour guide stumbles backwards and gushes: "The food is awesome, like really, really amazing, and we also have a cool new sports field over there and totally fabulous midnight snacks and out-of-this-world breakfasts, and that's our student union, and did I mention the FOOD?" Yeah, yeah, you did.

They all start with let's-go-around-the-circle introductions. Name? Madison. Age? Sixteen. Major? No clue. Indecisive but not ashamed to admit it. Want to learn everything and anything. Economics? Sure. Psychology? Sure. Computer science? Yuck. So maybe not everything. But all the other kids on the tour know their majors, know their careers, know their lives. "Biology and literature" says the girl in the back (as if she was born knowing). "Sociology" says the boy beside her. (What? How'd he come up with that?) It's killing me, not having everything figured out. I am way behind in this game.

And it is a game. We are the players and College is the finish line, but the rules are blurry and there are no directions from Point A to Point B. Can't be when you don't know where Point B is. And I want to WIN. I like winning, hate losing, despise failing. Applying is a lottery. I am not a gambler (except on the PSAT). I am a planner. I like to know things in advance, well in advance. So any time now, Point B University. Time to show. I'm ready for you.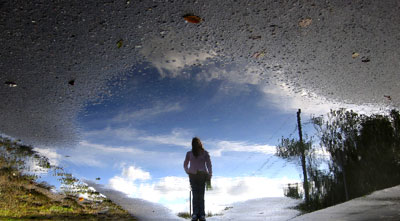 © Daniel H., Oak Bluffs, MA