Message From Your Daughter
March 26, 2013
Her face was pressed against the glass, small hands waving as big brown eyes filled with tears. You were standing at the end of the driveway with Mama, hugging her and kissing her as tears fill her eyes too. Carlos stood with the both of you, holding your bag in his hands.

After releasing Mama from your embrace, you turned to Carlos, Daddy, placing a hand on his shoulder. Mama's blue eyes look up at you still, but its owner is trying to be a strong boy. Tears brim those eyes as well, a few rolling down the ten year old's face. "Be strong, my son. Your mother and sister need you to be strong. You're the man of the house now."

"I promise," was all he said to you.

Just as you were about to enter Abuelo's waiting car, your little girl raced from her place in the window. Her little feet stomped the ground fiercely as she ran to say goodbye. And when you took her in your arms, tears stained your daughter's cheeks as you kissed her head full of curls.

Through breathy words and sobs, she made you promise you'd come back. That you'd be there for her 6th birthday and never forget the family you would leave behind. Her arms were wrapped tight around your neck as she did. But the tone in her soft voice, full of naivety and innocence, told of something that was soon to come; as she said to you "goodbye".

You clutched her head delicately, bringing it to your lips. "There is no need for that, no need to say goodbye. I'll always be with you, I will always remember you. Just remember that I love you."

You gave her one last kiss before setting her on the ground and took your bag in tow. She grabbed hold of your free hand after you open the door, tears still running down her face. "You promise, Daddy?"

"I promise, Jessie."

Little hands slipped from your warm, firm ones as you entered the car. The same little hands you held since the day she was born, that longed to hold yours again when she needed you.

But as the car pulled away, and you heard her cries calling out for you not to leave, another set of hands filled your spot. They took your little girl in the owner's arms and carried her from the edge of the driveway. They dried the tears she cried, after you left, and would cry while you were gone. Taking to their new role, her big brother picked up where you left off.

In spite of that, during the years after that day, they expressed a love that a father could only give. After you were pronounced dead, by then, she sensed no difference between the two. Both guided and guarded her, picked her up when she was down. He cradled her even until the pain had gone away.

She sensed no difference because her brother never let her forget about you. He always reminded her of the love you had for your family and did the job he promised you he'd do. You never faded from her memory. Like you said once, you'd always be with her. You're just with her now, through the son who looked to you as a hero.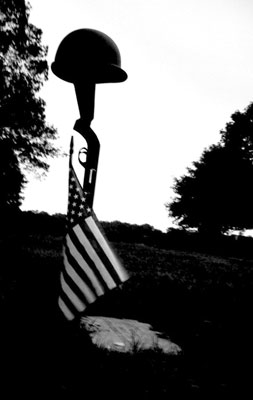 © Kristine B., Setauket, NY