Flux.
January 30, 2013
"You are here. You are still right here." -Richard Siken

Yesterday, another boy I don't know killed himself. This new death makes me feel much too old. There have been others before this, but I was young enough, then, that something positive always seemed to come out of it. The first time anyone within my worldview succeeded in killing himself, I gained a brother. When Jake's best friend died, he started living with my family on weekdays. He was a friend of my biological brother, but over a number of years we grew closer and became our own, newer, dysfunctional little family. When someone older than you dies, it's a distant, romanticized thing.

When my friend, Ciara, tried three years ago, I wanted to think it was something on the periphery of my life. Or, at least, that I was on the periphery of hers. A week or two before she and her friend locked themselves in a dodgy motel room, we went to a concert together. The kicker? It was part of a tour intended to raise awareness about suicide. That day, she left me with an album of CDs. A few days after I got two phone calls from my parents, after my mother had gone to see Ciara in the hospital, my mother said one of the worst things she has ever said to me. She pointed out that the neatly packer series of CDs looked an awful lot like Ciara trying to get rid of her stuff. A classic sign. I wanted to vomit.

I've never told my mother that her comment, in particular, is what haunts me. I think I've mostly recovered from the ordeal of my freshman year. But when I think about those CDs, there is a remnant I can't identify that twinges in my stomach, in my chest, in the tips of my toes. The songs she gave me are still on my iPod and I have this feeling that that album is still somewhere in my house, somewhere my mother hid it.

Ciara was a new friend, though. Not really mine. I inherited her from my brother when he left for college. But this boy, the new hot topic, went to my middle school. He graduated a year or two after me. Younger than me. And nothing good will come for me out of his death. No brother, only a lingering sense of wrong so anonymously delivered through the convenience of the internet. It's sick to think about, I know. But I'm just being honest.

I have problems with people who are overly public with their grief. I have problems with people who get overly upset about something they have no "right" to be upset about. I've only seen Jake post one thing to the internet about his loss: a single status on the anniversary a few years after, a small confession of love. He was the type to get angry when people acted like they were closer to Tucker than they actually were, when people were upset a suicide they didn't know anything about. I went on Facebook yesterday and today and every three or so statuses is a long winded, depressing quote followed by a "RIP Connor." Some of them have his name "tagged." And when I click on it, I am brought to a dead boy's home page. I hate social media and I hate people who post statuses like these. It seems so sick to me. We weren't "friends" on Facebook and I couldn't put a face to a name when I first heard it; I shouldn't have been able to see what he looked like. Innocent.

This boy shot himself. I know that's more common for males. I think about that face with his father's gun pressed to it. The two images seem so utterly irreconcilable; it's hard to put them together. I didn't know him, but I know the schools he went to. And something tells me that he was the kid that kind of middle school chews up and spits out, like me. But when I got spit out, I wound up entirely elsewhere. I went to a private high school far from middle school in both ideology and distance. When he got spit out, he was dragged directly back into another poisoning environment. But this boy and the first one, too, went to the high school I would have gone to. And somehow it was my stroke of luck that I didn't. Logically, I believe things wouldn't be much different for me; I would have survived that place, too. But it feels like there's some great potential for disaster lurking there.

I'm upset because I've become one of those people. Upset because some kid I didn't know and never wanted to get to know is dead, because I am now a consumer of fake Facebook tragedy. I don't know anything about him. And yet, somehow, I've managed to make up a whole life story for him, even though it's none of my business. I think maybe being just a few years older has entirely changed the way I see tragedies like these. It's silly, I know, because I haven't aged significantly.

In today's social media world, I can't log into any of my various accounts and not see something about someone who has died, or wants to, or is just really pissed off about something. They are voids of swirling negativity and I am repeatedly sucked into them. They have become part of my personal culture, but a larger one, too. A culture that turns tragedy into spectacle that everyone wants a piece of in the public sphere. And what will come of it?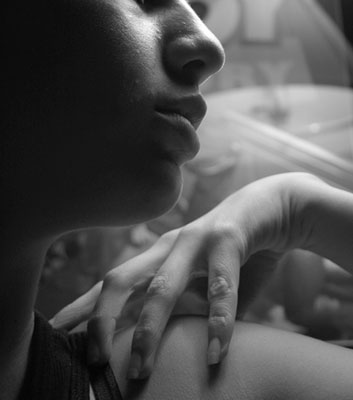 © Rebecca B., Santa Clara, CA