California Dreaming
January 25, 2013
I know this place all too well. I called it home for years before I left for the big city. It's the small town right outside of Pittsburgh I grew up in called California. I hated this town and almost all of the people in it. I loathe the sight of it, and I just want to quit thinking of it. For the sake of this story I will continue. It's late fall and as normal, the sky is clear and the wind is crisp. It was always a pleasant time of year here. All of the trees turned bright orange and, me and my friends were constantly at this little coffee shop on the edge of town. This town was tiny, so we could walk there with no problems. The cashier there was friendly and, she would fill back up our cups of coffee for free. This was our safe place, and I always knew we could escape this deathtrap of a town and relax. We spent hours there on some days after school and, we would sit at our normal table and profess our insecurities to each other.

I'm walking down the main street and, I turn left on a one-way street. I'm in the driveway of a house I am very familiar with, a place I was at a lot when I was still living in that town. It's my best friends house, and it's still as familiar as before. I walk up to the front door, and I open the door. I'm in their living room and, it's still a cozy as before. All of the furniture is set up in it's normal fashion. A couch the left wall, two chairs at the back of the room and a television at the front of the room. I sit on the couch and reminisce the great conversations and wonderful memories I've had in this house. Just then Kelsey, my best friend, walks into the room. She looks happy to see me. It's been almost 3 months since I've returned home, and I'm sort of happy to be back. Not being in the town itself, but seeing the people the people I really cared about, and missed horribly. We talked for the longest time then, but I couldn't really understand what we said. All I knew was that we were happy to be with each other and, that we talked like we were never separated.

We walked into the kitchen to make a pot of coffee and, possibly come up with some other sort of plan for today. On the table were the pancakes we had failed miserably trying to make the morning after I had spent the night on her couch while my parents were out of town. I could smell the burning smell that filled the kitchen that morning and, it made me laugh. I took one and ripped it into little bits and ate it. They tasted as strangely good as the batch we made that morning. The one bite quelled my hunger. When was the last time I eaten today? I couldn't quite remember. I often forgot to eat; I was constantly out doing something. I couldn't stay in one place or else I would have gone insane. We decide to go out the riverbank like we would on days we had nothing else better to do. We would sit there and watch the water roll by, and I would scribble down stories or poems into my little notebook I always had with me. It was a great way to end a great day with my best friend.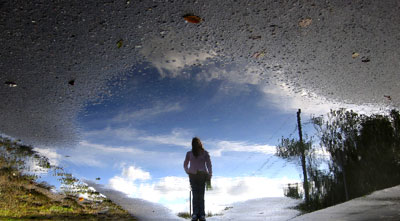 © Daniel H., Oak Bluffs, MA