Heart Strings
December 8, 2012
I walked tentatively up to the stage as the applause at my name and selections died down. "At least the crowd is polite". I thought to myself as my heart beat continued to increase. The pale violet walls seemed to come closer and closer, the gold frame paintings on the walls seemed to be laughing at me and mocking my concert attire. I looked around me as took the stage, my feet seeming to grow heavier and heavier with every step. The judges sat unmoving at the wooden fold out table writing on their notepads, making comments on the previous performer. As I neared the concert blonde harp I could hear them whispering.
"She buzzed measures 3 and 7 plus the dynamics weren't strong." The closest judge whispered. I looked at her from the corner of my eye. She was an odd sort of lady, frail but not quite elderly. I guessed that she was about 40; I also fathomed that her frumpy cloths and purple glasses were a result of the fact that the majority of her colleagues were elderly. The others nodded in agreement to her statement as my face started to feel hot and I could hear my heart pounding in my ears. "You can do this you've practiced." I thought to calm myself. I sat there waiting as the others had, touching the strings to practice. I dared to look out at the audience and found the faces of my family. They smiled at me and I attempted to smile back as the silence (save my heart) grew almost deafening. I remember looking up at the judges at the exact moment they looked up at me. I took a deep breath as I heard one of them say, "You may play."
I placed my fingers on the strings and began "Greensleves." My mind went blank, and that was a good thing. All I felt, saw, and heard, was the music. Ds and Fs rang harmoniously and blended with Cs and As. The yellow wood of the harp seemed to blend into my winter paled skin as my fingers melted and moved from cord to cord, string to string and the world seemed to fall into place. My fingers knew what to do and my mind began to wander. I thought of the work I had put into this, and the endless time I had given to achieve the moment I was experiencing. I knew that despite my struggles the harp was something I wanted to do forever. I felt myself slow down as the piece drew to a close. I waited there at my seat while the final note rang through the room. It wasn't until the last vibration had died out that I heard thee applause. It was no louder, really, than that of the other performers but I could see tears in my mother's eyes (Not a difficult feat) and a smile upon my teachers face.
I sat there, pleased and content, and I realized in that moment, what the harp meant to me. It wasn't just my instrument; it was something that made me special, unique and irrevocably me. It brought me heartache and joy and above all, it was something I loved. It had taken me a moment like this one to realize how much of a blessing it is to have something you do from your heart.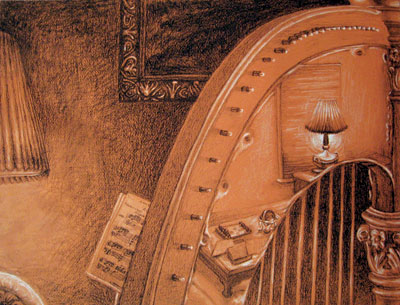 © Phyllie S., Far Hills, NJ