Why did something make me so mad?
October 27, 2012
We're the only ones in the room, once something that would have given me butterflies. Instead, it's like a hundred piranhas eating away at my gut. The stiff silence is killing me. So I manage to choke out what I've been thinking all along.

"It's true isn't it?"

He just stands there silently. Not even a glimmer of emotion behind those brown eyes I'd once found comfort in. And here I am shaking like a madman, choking on my heart.

"Tell me the truth this time." I can feel my throat closing in on me, those hot tears rolling down my face. And I'm thinking I might actually pass out.

I'm staring straight at him, my stomach in a hundred gut-wrenching knots. Why can't he just say something?

And then he finally does.

"Ya."

It's a whisper. Barely there, but I heard it. He knows I heard it. And he stands there still, a cold, heartless rock. While I crumple to a thousand pieces and somehow manage to force my leaping heart back where it belongs. And the whole time I'm thinking: this is what it must feel like to want to die.

Anger is not a good feeling. It's the worst possible thing you could keep built up inside. But that's what I did of course. I didn't want to be angry you see, I thought it was stupid, so incredibly stupid. I shouldn't have been angry for so long.

My anger was over the craziest of things, a boy. A boy I loved. And I'm going to tell you right now that I don't care what you have to say. I know that I'm just barely a teenager that I could not possibly know the true affections of love, and that it's completely ludicrous to suggest otherwise, but I already know. I know all of this. And even if what I shared with this boy was not love as I'm sure you will argue, it was definitely something.

January 27th, 2011 was the very first time a boy asked me out, it was the first time in my life that I found myself with a boyfriend. And boy was he perfect. He was everything that I could have ever dreamed. He was my life. That I will always know.

And what I know now is that he clearly did not see me the same way. At least, not as much as I thought he did. It didn't matter what he had to say to me, how many times he told me I was beautiful, or that he loved me and it would always, only be me. Because nothing brings a world of paradise crumbling down faster than someone who cheats, and then lies straight to your face about it.

So this is where my anger comes in. With a hundred thousand wretched names racing through my mind and off my tongue faster than any bullet, with so much time spent screaming, and sobbing into my innocent pillow, and with the sound of shattered mirrors, and thumping books as they hit my wall.

Now, I know that it's not irrational to be angry about something like this, I mean, we'd been dating for a year and a half. I had been so convinced that we were going to spend our lives together, that we would be happy. He had after all, told me all these things. It was ridiculous what had happened, unthinkable. But that's not what made me mad. What made me mad is that I stayed mad at him. I let my anger eat away at everything that was in me. It consumed me, I was blind with hatred. And that's just not ok. I didn't like being weighed down by this anger; it was ruining me, killing me. And I don't even know why I was so angry because deep down, I always knew it had to be coming.

Heartbreak happens everywhere, everyday. It's a natural part of life whether or not we like it. People are bound to get hurt. And this was my very first guy, what else could I have possibly expected? Eternal love? Not on my watch. But I really shouldn't have been so angry because I knew. I always knew. I shouldn't have been surprised but I was. And so I got mad. Stupid I know, but there it is.

And so not only had I been so hurt by this boy who's hands I had so trustingly placed my heart in, I was angry with him too. I hated him. And it nearly ended me. But all that anger, all that bitterness and hatred, I knew I just had to let it go. And so I did.

But that was not the end of course; I thought it would be. I thought that I had finally moved on. But life is just one big messy circle, always playing tricks. No, letting go of my anger was only the first step it seemed.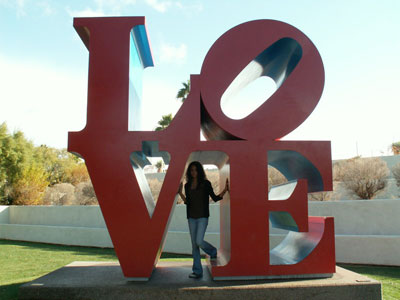 © Shannon E., Glendale, AZ