11 Months 19 Days
October 27, 2012
For those of you who have no siblings, there is a belief that if you are the oldest, then you can boss around your younger siblings. However, for those of us who are the oldest, we know that this is not a reality. Older brothers and sisters have to do things can't do, or won't do for that matter. Help your sister with her homework. Go play with your brother. These are just some of the commands that you would receive from your parents. But even when you try to boss your siblings around, you will most certainly fail. They always come up with a smart answer to not do it. But none have failed worse than me.

It was one Thursday afternoon. Temperatures were rising above 100 degrees. It was a typical Texas summer. However, it was still something to complain about. As, my skin wrinkled up and gasped for moisture, I thought of getting some water. But I was very tired, and didn't feel like getting it. Then, an idea crossed my mind, "Why don't I ask my sister to get it for me!" I thought it was a good idea at first, so I called my sister and said, "Little sister, go get me some water please?" Her response made me realize that this was one of the biggest mistakes of my life. "No," she snapped, "You can't tell me what to do! In fact, you can't call me little sister until you are one year older than me." "But I will never be one year older than you. I will always be 11 months and 19 days older than you." I replied in vain. "Exactly." she barked and whisked away.

I learned something after that. Don't tell your siblings what to do just because they are older. They'll always have a smart answer to not do it. In fact, I have not called my sister "little sister" since the incident.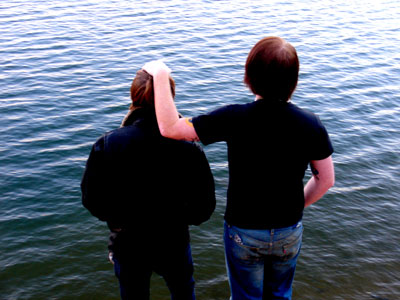 © Michelle B., Blairsville, GA