Not Afraid: Shanna
October 24, 2012
Shanna was 4 and I was only the mere age of 10 when it happened. When her little world came shattering down and all her dreams were taken from her with such harshness. I used to babysit her and I remember when she was born. She was the tiniest little bundle of joy and I couldn't remember a day that she wasn't smiling, until that day.

It was a week before her birthday and she was so excited to turn 5 because it was one whole hand that was taken up with the years she spent on Earth. All she had talked about was learning to ride a bike, "just like a big girl does," she would say. But when her mom got a call from the doctor saying the needed to go to the hospital immediately and he would explain everything when they got there, we knew something was wrong. They found out she had severely aggressive leukemia in advanced stages. The doctor looked her in the eyes and told her she would not live to be the same age as me, that she would probably die that year. She celebrated her birthday in the hospital, taking CAT scans and stuff.
I was horrible seeing her after she was diagnosed because she no longer smiled but wore a constant frown. I watched helplessly as her dreams turned from wanting to be a movie star, rock star, and becoming famous to just wanting to wake up. It was horrific watching her slowly dying in front of my eyes and not be able to do anything.

Make-A-Wish foundation came to her and asked if you could have anything in the world what would it be? She just looked up at the and said, " I just want to live and not be sick." It broke my heart to hear her say that because she was like a sister to me. She was family. Soon she became so ill she had to remain in the hospital under surveillance.

I remember when we would visit her she looked so pale and fragile. Under eyes it was purple, perhaps from lack of sleep or something. Her voice when she spoke was harsh and raspy, almost like she had lost her voice and she was trying so hard to speak. I cried at the sight of her like this because I remembered her as always so full of life but as she laid there on that bed it was as if there was no life left there.

It was 3 days later when she passed away on December 24, 2007. One day before Christmas and 2 weeks before she would have turned 6. It was a terrible Christmas that year as our families weeped over the loss of her. I remember when we buried her we set flowers by her gave and all her presents. I didn't tell mommy though that I put my most favorite bear ,I got for my 9th birthday, on her grave.

Since she has passed away I have thought quite often of her and the strength she must have had to face death a bravely as she did at the age of 5. The last day I had saw her, she had told me she wasn't afraid to go. She wasn't afraid.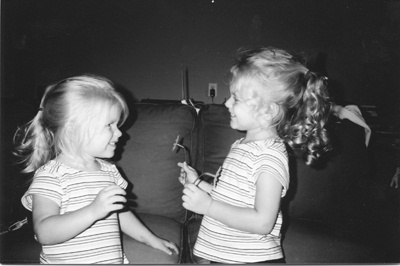 © Elizabeth S., Pompton Plains, NJ