Jenna
October 14, 2012
I was thirteen years old when my mom told me there'd be another violinist to play with me at church. To me, this was amazing news. I always felt so alone, a violinist amongst singers who thought I was absolutely amazing, simply because they hadn't heard any other child violinist before. It's quite common, really. You can look up a 5-year-old playing Paganini on YouTube; a piece I only hope to be able to learn for my senior recital. For this new violinist, I knew I needed to make a good impression. I remember going to the extra trouble to put on makeup before church. At this time in my life, my style was long blonde hair with a blue headband, blue eye shadow, mascara, and maybe some lip gloss.

I remember meeting her, in the loft of my church. We were standing behind the piano, by the railing. I remember the way she talked, the way she used the word 'good' instead of 'well.' I remember her being surprised and saying, "You're thirteen?" She was older than me. She had so much potential in violin – it came to her naturally. Her dad wouldn't let her take lessons though, saying that she hadn't practiced when she was younger. I wished he would give her a second chance.

Jenna played with me for two years. In that time, she started high school, dyed her hair, and got glasses. I will never forget the shape of her glasses. They were the semi-rectangular kind, with black frames.

Jenna started to miss church occasionally. One time she came, after a long break, and said that she was homeschooled now. I, a homeschooler, immediately invited her to come to homeschool events and meet my friends. She said she had to work during one of them, but that she might be able to make a different one. She never had the time for it.

I also offered to give her free violin lessons. She had the gift, the talent for it, but her parents thought she was good enough already. She talked about possibly setting up a time to work with me on violin, but after my first introductory lesson, she never did. She was offended and very upset when my mom told her that she was at the beginner level (she was, but I wouldn't have told her that) and that she couldn't play at church anymore if she wasn't even going to practice; as she had told us that she hadn't practiced in months. She stopped emailing me. I was upset by the angry emails that went back and forth between my mom and her dad, hurt that I was not good enough for her, and unsure as to what I should do.

I wish I had tried harder.

A few months later, the day after I had gone to my church's picnic at an amusement park with my best friend, my mom came home from church in tears.

"Jenna committed suicide last night."

While everyone else was at the picnic having a great time, she had stayed home and killed herself. I was in shock. I sat in my room with the door shut, staring at the wall, tears rolling down my face, for over an hour.

As the days went on, I found out more and more about Jenna that I didn't know. She had been kicked out of school, not pulled out, for drugs. She had run away from home. She was bipolar and had attempted suicide before. At first I was angry at her parents for leaving her alone. But then I realized that they did care about her, and they were trying to help her. They said that she had been laughing and watching a movie with them just the day before.

Every time I see a girl with similar glasses or similar hair, or someone who talks the way she did, I think of her, with regret and sadness that she felt that the world didn't love her the way she was. Every time I hear of a death, I think of her. Every time I play violin at church and play a song that I remember playing with her, I think of her. I will never forget her.

To think that I never really knew her – the real her, and yet I still miss her, months later, when everyone has stopped talking about her, shows how many people will be affected by a death. At her funeral, I watched her parents and older brother walk behind her casket up the isle. There were many sad teenagers there; one did not stop crying the entire time I was there.

Months later, on November 2nd of 2010, All Soul's Day, her candle was at the front of church. I was playing violin, and I was so sad to be there, playing without her. When her name was called, her dad walked up alone, and I saw a father without a daughter – a father who raised her through her childhood and early teen years but who hadn't gotten to see her grow up. A father who might always blame himself for her death, and never know who his daughter would have grown up to be, or what she would have accomplished.

When you think of your death, you probably think that all your friends and family will be sad for a while, but will eventually get over it, and you will be free from the problems in life. But when Jenna died I found that many more people were affected by this than just her family and friends. I can not claim to be one of her friends, but I wish I could go back in time and try again, try to save a life. Since her death, I have not seen her family together in church. And I wonder, if she had kept struggling to make her life better, would it have gotten better? Would she one day discover the cure for cancer, or even just live a happier life? I will never find the answer to that question.

I can only hope that this will be read, and that lives will be saved.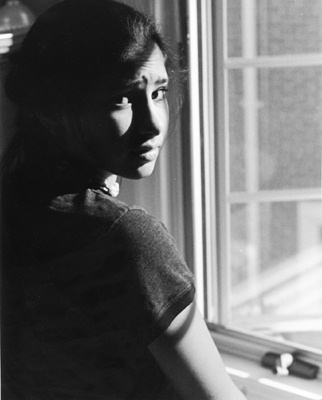 © Jennifer H., Bethesda, MD