Killing Fireflies
September 27, 2012
I'm waiting. Waiting for that moment when everything falls apart. It will be quiet and deathly still. And then the wind will pick up and gust through the forlorn trees, drawing their leaves away from them and to the ground, just brushing my cheek as they fly by before landing. My hair, unbrushed and tangled as always, will blow in the heavy breeze. The whispers of air that stir the tranquility and kiss the quivering grass will rise until they are no longer slight minnows in a stream but roaring lions, strong and loud and fierce.

I crouch down, huddled with scarred arms wrapped around scarred legs, then stretch out in a green scratchy ocean, eyes to empyreal blue. Then grey clouds shadow the earth; I shiver in the sun's absence. My ocean soon will be battered away.

I watch the thunder clouds progress, looming almost right above. Once they start to cry, tears won't be the only rivulets streaming down my cheeks, from these blueberry eyes. The rain will disguise their salty stain.

I blink as the first startling drops fall. They trickle from my hairline down to hang on the tips of my eyelashes, before drip-dripping into pale, marred skin.

I'm singing. Singing to the dull pebbles that lie in the dry, overgrown creek bed whose beauty only I can see. Maybe they will sing back to me, and only I will hear them. The rain is pelting my body, drenching my clothes, and lightning streaks the sky, illuminating my surroundings for half seconds at a time with jagged flares. Calm and composed, I sing to this world in this storm that serenades me with rumbling thunder in return.

I cup my hands to collect the icy droplets, and sit up to raise the make-shift bowl to my lips, and take a drink. Water is life; precious. As I lift my hands upward to be filled again, I thirst as if I were near end.

I listen to the melancholy pebbles now. Their bold song honors memories not belonging to me, but to those who know me to be one of them. One day, the leaves that brushed my cheek will lullaby another lonely soul, another one of them, another of us.

I'm fading. Fading as the sun colors the horizon and begins her cyclic journey to rest until morning bird calls beckon; her affectionate alarm clock. Fear digs and searches furtively through my steady heart, but finds not even the thinnest crack to burrow into. Fingers once clumsy with needle and thread in times past now have sewn up ripped seams with practiced hand.

I capture fireflies in a jar. Few brave ones solemnly venture out after weathering this leviathan storm.

I am like these fireflies. I have taken a chance, soared blindly out into a foreboding night, and still even then I only shone in erratic flashes; every faint flicker bargains liberty for a glass prison.

I unscrew the jar's lid to set them free. But their suffocated forms spill into my trembling hand. In my final breath I hear a sorrowed voice murmuring. And as I look below I see a child standing there, a dead firefly in her open palm, tears in her blueberry eyes.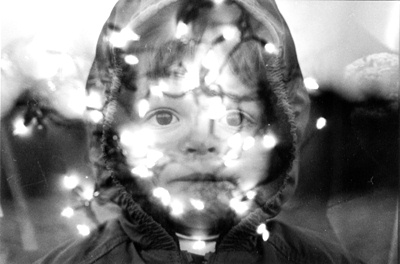 © Catlin B., Marblehead, MA