How i Found God
October 4, 2012
How I Found God






Holly Alspaw


It was silent. What had happened? I had no clue. All I knew was it was I felt amazing. It seemed like we had been lying there for hours, in silence. I open my eyes and look around it was dead. All I see is people on the groupnd and the adults standing around and praying. So I lye my head back down and began to pray. I prayed that god would help me through everything in my life that was going on, to help me to keep on the right track. I was lying on the floor thinking about the subject we had just learned about. The subject was "Holy Spirit". All I could think about was could I of been filled with the Holy Spirit. Then I knew right then and there that I had been. It was the most amazing feeling in the world, I was so happy. We were lying there for about 30 more minutes until anyone said anything.

Where I found God was at a place called Café 41. At Café there is a lot to do. There is a concession stand where there are all kinds of food, in the concession area there are couches for people to relax on and just talk. There is also a skate park, 2 ball courts, and a game room. Then where we have service at is a room we call the sanctuary it is the most peaceful room in the whole building. The sanctuary is the room that I found God in.
The event was called an Encounter. It is called an encounter for a reason it's called that because it's so that you can encounter God. I have been to 2 encounters the first one I was partly filled but I have messed up since then but since then I have got things back on track with God.
After the Encounter if you wanted to become a Reformer you had to take 4 classes to renew everything. I took the classes; I graduated them and became a Reformer. The Reformers are the teens/adults that run Café 41. We all help out a lot. We do the service in the sanctuary and we also go different places and do services. The Reformers were started to change the world. We are a groupp that is trying to get evil out of the earth.
Being a Reformer is a lot of fun. There are about 30 of us. Most of the Reformers are from Moberly, a few of us are from out of town. Being a Reformer is a big responsibility. You have to sign a paper that says the responsibilities of a reformer, and what you have to do to stay a reformer. Reformers have to follow those rules to stay a reformer. All Reformers get shirts to show that they represent Café 41. Being a Reformer is so much fun.

Finding God really changed my life. If you found God you would be changed to. I am encouraging you to go and find God. I feel that everyone needs God, and I know they do. God is the most amazing thing in my life. He comes first in my life.

If you don't believe in God try reading the Bible and read of the most amazing things that he has done in other people's lives. It's amazing what he can do. He has raised people from the dead, he has healed the sick and wounded. God can take water and make it into wine. I have started reading the bible but haven't accomplished the whole thing yet.

God changed my life a lot like he has given me the strength to do a lot more. He has helped me to forgive people and to help me to ask them for forgiveness. Since I found god and I have been able to forgive others I have got a lot more friends. I may still have some people that I need to forgive and ask forgiveness of them but it will be easy for me to talk to them about it. To ask for forgiveness and to forgive others is hard to do but if you have God in your life it will be a whole lot easier. God can make everything better in your life. Just trust and believe in him.

Before I found God I would disobey my parents, I would lie to them. My whole family was going down the wrong path. I felt like I had no purpose in life. My life was completely wrong at that time. I felt like there was no one there to help. But the whole time God was there he was there for me no matter what I was doing. God was watching my every move.

Then I heard about Café 41. So I went I thought that it was ok. So I kept going back so when I heard about the "Encounter" I thought that It may be fun so I signed up the first one that I want to didn't really help me but the second one I found God. The "Encounter" really helped me. I have graduated it and I am a "Reformer". The "Reformers" are a groupp of teens and a few adults we run Café 41. It is our job to help everyone to come to know God. I really enjoy it.

God is the most amazing thing in my life. I have to focus my life around him. My next priority is to get my family to start going to church and getting them to come to know God. I think it would help my relationship with them and God. And God would help them to grow better in him. So I encourage you to go talk to God or at least talk to him. I'm not saying that you have to I'm just recommending it. God will really change your life, like he changed mine.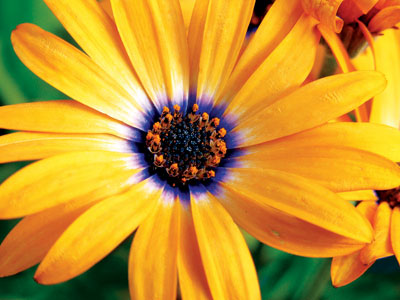 © Vania M., Voorhees, NJ