Army Daddy
September 26, 2012
The sun beat down on us. The clouds were pulled back and the day was clear. How could it be clear today? I heard the shuffling going on inside our brick house. I however was standing outside, letting the breeze move my black bangs around. I heard a wail come from inside, "No! Daddy, no!" My sister cried in her muttered speech. She was latched onto his leg and refused to let go. My mom, I could tell, was close to tears herself and I had to make sure I wasn't at least. I looked back at the door and saw my tall, hazel eyed dad make his way outside with his large duffel bag, already dressed in his army uniform, boots and all. I saw him and looked away.

The drive to the airport had to have been one of the most gut retching things ever. No one dared speak the tension and emotions swirled in the air in a never ending current that swallowed all thought of words to say. Finally, my dad spoke up, "I'll make sure to call whenever I get the chance. I know one of the guys bought a web cam, I can talk to you all there too." He said before swallowing loudly. I thought he would cry for a moment but I knew that he was too strong for that. When we finally arrived there, the tension turned into a more sorrowful feel. I stayed silent, pulling my sister along by her hand to make sure she stayed with the group. All around me, Denver International Airport seemed to taunt me. Its beautiful white ceiling that mimicked a circus tent showed the sky which was still too bright for the kind of day that it was.

My sister and mom cried feverishly. My dad kneeled down to me, the only one who didn't cry. "Hey, promise me you'll take care of them ok?" he asked me, his hands grasping my upper arms. I nodded, tears threatening to fall. He smiled, kissed my forehead, and then hugged me. I grasped onto him not wanting to let go. I took note of everything I could about him, his light scent, his hazel eyes that always changed colors, his black hair, in case I didn't see it ever again... He stood up and I gave him an army salute he had shown me how to do. He smiled proudly while he looked at me. Kissing my mother warmly again and hugging my sister, he set off to the terminal that would take him away from us. "Come back soon…Please." I murmured as I saw his figure disappear.

"Mom! Mom!" I said shaking her awake. She was sobbing in her bed still about my dad leaving. It pained me to see her so vulnerable and I just wanted to see her brown eyes full of life again. I crawled into bed with her and snuggled up close. "It's ok mommy, I promise daddy to take care of you and Gigi." I said softly, comforting my mother for the first time. Many times she had comforted me from nightmares and sicknesses, but never ever had I had to comfort my mommy. Once I was sure she was asleep I pulled my parent's blanket over her. "Kiki…" my sister mumbled, poking her hand in the door way. "Yea?" I asked. "I no sleep," she said in her broken speech. "Let's go to sleep ok? I'll put on Sailor Moon!" I said and her eyes lit up, "Ok!" she said and took off dragging along her old and worn "blanky".

Days passed, months passed, and I always waited for my dad to call us or web chat with us. My mom went to the doctor and they told her she had Thyroid problems which I didn't know what it was… She was just always very depressed. I ended up being the one to try and pull my sister's unruly curly black hair into ponytails when she didn't feel well and attempt to have us dress in clothes that actually matched which became a problem as the winter came with blizzards and below zero wind chills. I stayed strong, I had to. I only cried when necessary and it was always done at night when everyone was asleep. That's when I began to have nightmares… terrible horrible nightmares of a fire falling down onto people. I could hear their screams so deafening and so, so real. I spent nights wide awake because I didn't want to hear their screams. Was I losing my mind too?

After all that wait, there finally came the day…the day when I would see my beloved daddy again. Standing at the airport a second time, I was excited this time. Me and my sister were dressed in matching outfits of blue and pink with jeans and sneakers and my mom with her newly highlighted hair, was dressed very nice as well with a nice blouse and jeans. I wore the necklace my dad had sent from Kuwait. Gazing down at the green, shiny dog tag, it read, "With Love, From Dad. U.S. Army 2008." I smiled though, because my daddy was coming home. The overcome announced what flights had just arrived and I smiled brightly. Only a little bit more! Then, I saw a group of men come out of the terminal. Looking back, I should've noticed their tired, worn out glances but…I didn't, I just wanted to see my daddy.

"Daddy!" me and my sister screamed and ran toward him. He saw us and smiled lightly, dropping his bags to embrace us; his strong arms tight around us as we cried in happiness. Then, all too soon, his arms were gone. "Daddy?" I said, noticing his hazel eyes darker than usual. I should've noticed that something was wrong with him; that was his first tour would be his last and that he had PTSD and they wouldn't let him go back. The man that came back wouldn't be the same person my daddy once was, the doctor told us. The daddy I knew was killed in the war that he had signed up to fight for the country he loved, killed when he saw his best friend die in an attack when it should've been him, killed when he had to see people die at his hands their blood running on the sandy streets. We were all frozen in our seats on hearing this, but me, finally fed up with the silence said what was on my mind "But daddy is still daddy to me…I don't care." I said at the doctor and he smiled, "Yes, yes he is kiddo." And he still is my daddy and I still don't care, because he is my brave army daddy.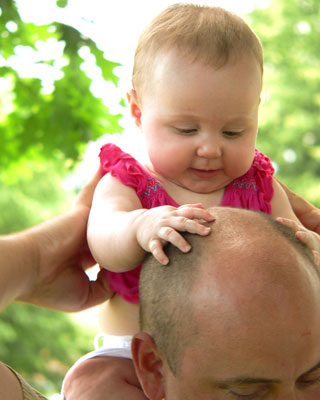 © Lukas D., Conway, AR