Uncle Gary
September 23, 2012
My mom and I don't get along very well. You see, she doesn't support the youth group that led me to God. It's the hardest thing in the world to fight about God, especially with someone who carried you for nine months and raised you for sixteen years. Yet we still can't agree on the "right" way to cultivate a relationship with God.

So we fight. We argue, yell, cry and beg for the other to hear us out. It's a cycle—me asking if I can go to youth group, her sad shake of the head, and the frustration that ensues. We give each other the silent treatment, she threatens, and I say I can't wait until I'm eighteen. Sometimes I think she hates me, or that she thinks I hate her. That's not true though. She is SO important to me, and I do a very poor job at showing her that. People always say that tragedies bring people together. I've never know this to be more true.

It was a Saturday night when my Great Uncle Gary was killed. My mom crept upstairs to my room that night and sat on the edge of my bed.
"What's up?" I pulled the ear bud out of my ear and put my book down unknowingly.

"Can I have a hug?" Her voice was shaky, terrified, and the look and her eyes scared me to death.

"Sure, Mom." I said softly. She wrapped her arms around my body and laid her head on my shoulder, trembling.

"My uncle Gary was hit by a car today." Her voice cracked and a feel her whole body collapse onto me, the release of tears on my shoulder.
"Oh, Mom…shh...shh." I rock her back and forth, stroking her back. My own tears come freely now, the taste of salt in my mouth. I don't know how long we stay in this embrace, holding each other together.

Finally, she pulls back. "I'm okay." She whispers, her voice shaking and her fingers knotted together.

I look her in the eyes. "No, your not." I said firmly, taking her hands in mine. "But, one day you will be."

"No…I'm not okay…I'm not okay…" She repeats this again and again, her body folding over itself like rag doll, her head one again on my shoulder. I rock her again, tracing patterns on her back and playing with her hair. I hold this woman in my arms, holding her together, the woman that did the same for me.

I can imagine Saturday night for Uncle Gary. How he would have kissed Aunt Lynn on the check and made her laugh, his booming chuckle echoing through the house. He would have grabbed the dogs leash and brought him outside, whistling as he began his walk. How he would have waved at the cars that passed. How one speeding car ended his life.

Now, I've only met Uncle Gary a few times in my short life. The last time I saw him was past summer. He wrapped me in a bear hug. "Now this must be Ellie, Lisa's little girl!" He showed me his shirt that read "If lost, please return to Lynn." I announced that he was my favorite Great-Uncle, even if I had only really known him for a few short hours.

My uncle Gary was promised to God. In Catholic families, this is a typical thing to do—promise one son to be a priest. However, Uncle Gary wanted to have kids, to be a father. So he did, going against his parents' wishes. But the thing was, he was a great father. My mom was so close to her Uncle Gary—when her parents were getting a divorce, he guided her through it and made sure she was doing alright. My mom said it was a good thing he wasn't a priest, because he was such a good father.

The next day at church, I held my mothers had throughout the whole service. I felt her whole body shake as our pastor blessed us and asked for the Lord's comfort. At one point, she leaned her head on my shoulder and let her tears run freely. A few people looked at us curiously, but I just held her tight and let my own tears fall.

The ironic thing about life is how roles switch in the matter of a night. How I held my mother together, how she leaned on me for support, instead of the other way around. You see, the thing is, we are all called to be strong. To be stong for others when they need it. When resolve breaks, how it's okay to pray and to call for a higher power to comfort us. It's okay for my mom and not to fight about religion for once and to just embrace it. It's okay for us to be broken, to need to mended, to call on God. It's okay for us to love each other through this.

You see, it's never been truer that the bad things in life merit good things. I don't know where my mom and I will be in a year, but I do know that I will do everything in my power, no matter how small, to hold this woman together. We will grieve, we will laugh, we will cry and we will pray until it doesn't hurt so much anymore. Until then, I know Uncle Gary is looking down on us. I know one day, everything will be okay.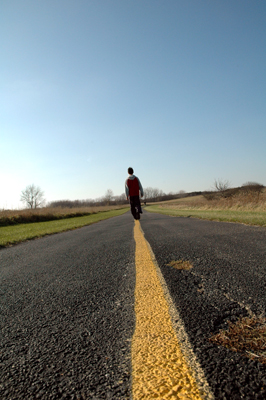 © Seita O., Palatine, IL