The Price of Inspiration
September 23, 2012
My grandfather passed away last December, around 4:00 in the dark, early morning on the day after Christmas. It affected me profoundly, even though he was not the kind of man most people would call inspirational. In fact, he lived his life, and all the ups and downs, with severe pessimism and a general lack of empathy, preferring to spend much of his time in an alcohol induced haze. His mistakes and flaws, however, are very much a part of the man he was, and the reason his life turned out exactly as anyone could have predicted. The thing that inspired me most about him was my severe desire to learn from his mistakes and flaws, and become a better person by learning the lessons he never even attempted to understand. His life was stained with tragic aloneness, with days spent in an empty, unadorned room and nights spent with only the low murmurs of the television for company. But even this story means something.

Every child learns a few simple rules, and among the first is that a person should always treat others the way they want to be treated. My grandfather was not very good at this; my mother put a roof over his head and did everything for him that she could, and he yelled at her, in a thunderous, growling voice tainted by years of smoking, for smothering him. One such night, he was so loud that I, writing in the sky blue room that was our office then, was able to hear his words quite plainly through the thin wooden walls. Only a handful of weeks later, he was puzzled when my mother wanted to sign his accounts, car, and estate back over to him, and went so far as to assert, obnoxiously, that it meant that she no longer cared about him. His poor treatment of her was what led to my mother not having the father she deserved, simply because he could not treat her with common human courtesy, as she always tried to do with him. His life ended abruptly, and the memories that most of the people whose lives he touched will carry with them about him were memories of his being rude or insensitive. When we die, most of us want to be remembered as good people, not as angry, difficult drunks.

Stubborn will power is something that runs in most of my family, but while it is sometimes a bad thing, it is not something I would change about myself. It is what gives me the strength to hold on when it feels like I'm drowning in a river of my own pain and regret, when depression is a seed that takes root in my deepest heart. My grandfather was not the kind of man who stuck to his decisions, however. He divorced my grandmother and left my mother without a father of her own to love her, even though he knew what it was like to lose a father, and he did it with no apparent qualms. He even went so far as to go out and buy himself a ring as a present when he signed the adoption papers taking my mother out of his life forever, the diamond from which mysteriously disappeared after his passing. I feel that if everyone treated people with that same cavalier attitude, there would be no hope for humanity; we would all be jumping off bridges and cutting ourselves, coating ourselves in red from all the rust and blood, rather than working through our arguments and solving our problems. From my grandfather, I learned that cutting and running is never a good option, even if it is easier.

Regrets are something most people carry throughout their lives, to be laid to rest when they lay on the soft cotton sheets of their deathbeds and talk to angels only they can see in whispered words. My grandfather, though, was a professional at gaining regrets, never apologizing even when he was wrong or downright cruel, making my mother cry some nights with his carelessness. He ended up dying halfway across the country, where we could not even be with him in the end, as a result of his lifestyle. To me, this is one of the saddest tragedies of all. Because he wanted only to do the things that made him happy, his final act was to walk away from his family, heading for the sandstone canyons and dusty roads of Arizona. We were the people who loved him even for his flaws, and the truly sad thing is that if he had stayed here with us, he would not have contracted the illness that brought back his cancer and struck the final blow. He could have lived many more years, celebrating his birthday in May among my family, rather than dying before the chill winter winds abandoned the slowly blooming buds of early spring. If he had any regrets, he never had time to deal with them, because he was so busy asserting his freedom from responsibility like a teenager who just left home. If he wanted to change anything, it was too late. As humans, we never know when we will breathe our last. That makes it even more important to make peace with the past while we can. There is nothing he can do to change the hurt he put us all through now, which I know my family regrets, even if he would not.

I do not know a lot about my grandfather's life, to tell the complete truth. He was a very private person, and there were many things he simply did not share. It was not because I was too young or too stupid to know them. He merely did not care if we, his family, remembered him in the best light possible. All he left behind for us were boxes and boxes of baseball cards and other meaningless trinkets, some memories, and a room full of coffee fumes but empty of almost everything else. This is sad, because I believe, in the deepest depths of my heart, that he was once a good man. But all I will remember of him is twelve years when he was a ghost in my life, never quite there, always a gray figure skirting around the edges without ever knowing what it is to be a part of the center. This inspires me, because it teaches me that I do not want to be the kind of person to walk away from those I love and treat them as though they are undeserving of my love. Most of all, my grandfather taught me to forgive everyone, including him; that is why I wear his ring, as a constant reminder.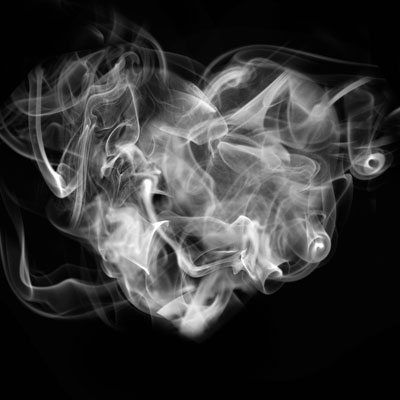 © Olivia E., Alto, MI