Scars Heal
September 22, 2012
The breeze whips through the air and I grow more and more grateful for the 3 feet of wet sand that separates the two of us. The powerful waves lap harshly across our feet as we stand on the edge of a vast and bitter ocean, both the water that we stood in and the one I was about to infringe upon as I said the words I knew he couldn't, or wouldn't, bear to hear. But the breeze swells to a piercingly cold wind, and the darkness encases us in an uncanny isolated bubble in which the rest of the world is absent. The rest of the beach is empty, and the only sound apart from the skimming of the waves is my voice, shaking and weaving its way through the chilly November air, trying to find a way to tell him that what we had was gone.
I feel my arms wrap themselves around my chest, and my body begin to tremble. He's angry. He has that look in his eyes, the look in his eye that scares me more than anything. His body becomes stone still and his lips are pursed tight in a straight line across his mouth. He just looks at me. He doesn't say a thing, just stares that cold hard stare.
"You hurt me." I whisper, my voice failing more with every word.
"I can't do this anymore. People ask me things. They ask questions. They want to know why I don't like to be touched anymore. Why the purple and the blue show up on my skin, because makeup just won't cover it up anymore. Why my eyes don't shine as bright as they used to. Why I don't smile. And they want to know, if you love me. And I used to not only know the answer to that question but I believed it with every fiber of my being. But now, I can't help but wonder myself."
Still beating me with his heated gaze, I close my eyes, and try to breathe the thick salty air deep into my lungs. I know if I look into his icy blue eyes, he would be able to read my thoughts. To make me hurt a little more with every passing second. So, I close them and wait.
"You don't get to do this." he says finally, forcing the words through his tightly shut lips.
"I am your whole world. You would never be able to get away from me. You belong to me."
And for a second, just for a second, I think it might be easier to believe him. Maybe this is all I deserve. Maybe he loves me more than anyone ever would. Maybe I could fall into his arms right now and he would forgive me, he might forgive me.
But I feel my blood pumping now, pulsing through my heart, feeding my veins, detonating through me, all the way down to my fingertips and I look him straight in the eye, knowing this time I won't get lost. This time I can't forgive him.
"I don't have enough room in my heart left for scars. And that's all you are. The scars of my past. Maybe you're right; maybe I won't be able to forget you. But scars heal."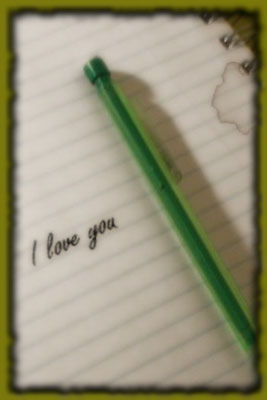 © Rebecca B., Marietta, GA