Bitter Chocolates and Raindrops
September 20, 2012
There was a jar of candies that my grandfather kept on the counter across from his bed. Abuelo always preferred a certain kind of chocolate, a small spherical kind wrapped in a thin aluminum wrapper that had the pattern of a soccer ball printed on it.

I can't remember what they taste like.

It's odd how frustrating that can be, to know what something, like chocolate tastes like but to not be able to recall that exact distinction that made a certain chocolate special.

After his death the jar remained there.

That jar was nothing particularly special, just a cylindrical transparent container. When my brothers and I were children the jar seemed to engulf our hands entirely. The last time I went to visit my grandmother, I was eleven or thirteen or somewhere in between the two. The jar was still large, my hand was no longer so small but the vastness between my fingers and those chocolates seemed so great that I could never quite muster the ability to grasp even one.

They should have expired by that time anyway, my grandfather died when I was seven, yet every time I glanced at the jar, there was some kind of taunting allure, as though the candies wanted to be eaten. Sometimes I wondered why I did not just tip the jar over and spill each one of the little spheres onto the bed, but that seemed like blasphemy, like bringing a bastard to a family reunion.

After his death the jar remained on the counter across from his bed, but slowly, slowly it began to lose the number of little chocolates that resided there until only three or four sat motionless at the bottom of the jar. I tried not to look in the same way one might try not to look at a woman breast-feeding in public.

One day, after I went out to buy an ice cream for fifty-five cents, I retreated into the coolness of my grandmother's bedroom. In the room Cecilia, the maid and an aging grandmother at that point, stood holding an open bag of candies, the same ones my grandfather loved.

I looked at her, as the brownness of her skin and the sagging of her cheeks, then down at her feet, protected only by the cheap pink flip-flops that sold for a dollar a pair at Flash.

She didn't notice me watch her as she pour a bag of candies into the jar, they were the same, the exact same down to their shape, size and color.

It infuriated me for no particular reason, other than my affronted pride, as though I had been purposely misled. I said nothing, left the room, and sat in the hammock and began to swing lazily to-and-fro in the hot, rainy, breeze. I looked out into the scraggly, garden, and saw the roots s of the plants dancing over the soggy mud, all laying a top as water flooded and piled up unable to drain into the ground fast enough.

Next to me on a hollowed stone ledge, fake-polyester flowers bloomed and remained stiffly upright, even as the globs of rain fell and broke against the ledge and on them. I let it go, and listened to the constant pitter-patter of rain against stone for two weeks straight.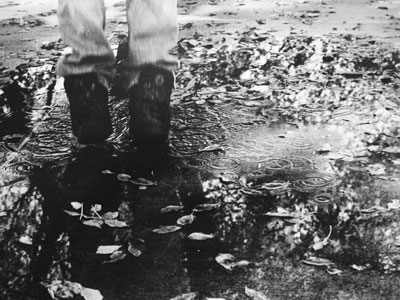 © Laura M., Eagan, MN