My Best Friend
September 1, 2012
My Nana Becky was the inspiration in my life at the time I was little, and the time while she was alive. She was a grandmother figure to all the family friends' kids, and all of her grandchildren. She would have about eight of us at once at her tiny home as our parents were working. She meant more to me than anyone did. She was one of those kind of people who would just tell you how it is or make you laugh right on the spot with her own distinctive laugh that would fill the halls.

Misery filled the air as my family found out about a horrid tragedy that was occurring in out mists. It was a day filled with grief and sorrow on the day we found out my Nana Becky had breast cancer. Her sickness filled all of us with the desire to be around her more often than we were normally. It was around May of 1998 when she found out about her sickness, and she never went to the doctor after that until the cancer got to a stage four. My family and I hadn't known about it until after she found out it had spread more, and gotten worse as time went on. I was only about three years old at the time, so I didn't really understand anything that was going on when I got a little older it occurred to me what was really happening to my best friend, and that was she was dying.

"Mama what's happening to Nana?" I asked my mom when she was crying, and she said "Nana is going to be okay, don't worry about a thing she's just sick." I knew that wasn't all there was to it, but I just let it slide for a little while and as time went on my mom would cry a little more each day, and I would always wonder why because she had told me before that Nana would be alright. I would ride the bus from my elementary school and she would fix me an afternoon snack, but one day I got to her house I went inside the door to see her lying in a hospital bed with an IV attached to her. Her sister-in-law was there waiting for me to arrive, so that she could fix me whatever I was wanting.
Before she had been put on bed rest my Nana would always take me to my dance lessons, and she would watch me until it ended. I found out I was going to be getting a new sibling whether it was a sister or a brother. My mom was sick as well as my grandmother, but not with anything physically she was going through a great deal of depression while she was pregnant with my little sister. Me, my mom and my dad would go and visit her whenever we had the chance to do so. My mom had my sister on January 11th, 1999. My Nana had bout me a shirt saying "I'm a big sister" and I wore it to the hospital. Over the year my Nana grew weaker and weaker not giving us any sign of her own weakness, but we could tell she was starting to slowly start to pass away.

We got a call from my grandpa telling us we needed to be at his house soon, because he wasn't sure she was going to be here any longer. "I came in after I called you, and she was gone" he told us when we got to his house. My mom landed on her knees crying, and holding my grandmother with a great deal of love for her. I still wasn't sure what was going on at the time, but I could see her; she was a pale white and her eyes were shut, her lips blue like as if she was cold, and I started to put the pieces of the puzzle together. She was dead, gone and not a part of my life anymore. My sister never got to meet her, and neither did any of my other cousins. I was the only one who got to know what an amazing person she was. On April 23rd, 2000 my Nana passed away.

She was one of my best friends, and she left in the worst way possible. I still struggle through a great deal of depression when I remember that my best friend has passed away before I could even tell her goodbye. Her death had a major impact on my life, and a few years after she died was when I made my decision of what I would do after I finish college. I have an ambition to be an oncologist, so I can help people who are going through what she went through.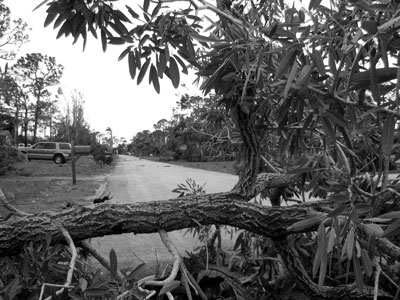 © Emily O., Boynton Beach, FL