His Favorite Color is Gray
August 16, 2012
The storm raged outside my car window, drenching the world in heaven's tears and a thick coat of gray. Inside the car, the silence between mother and daughter raged its own storm, as I wondered how I'd got here. The spunky, determined, and cheerful girl I once was had been replaced by a bitter, rebellious, and disheartened girl. Every door was being slammed shut in my face. The only things that mattered to me were gone, my freedom taken by eternal grounding and my final escape and passion, pole vaulting, removed as my parent's desperate attempt to reign me in. In their eyes, they were protecting me from myself. But forcing me to tell my best friend goodbye was taking it too far. The words they had placed in my mouth tasted sour and made me sick. I didn't want to tell him goodbye. I didn't want an ending.

You see, I had fallen for a boy in a way I never intended to, a way I didn't even know was possible. Weston was just a boy for a while, then a friend, and now, he's one of the most important people in my life. What started with a simple Facebook chat escalated into an inseparable bond between two hearts: the girl who wore her heart on her sleeve and the boy who guarded his heart with unmatched dedication.

The morning began with gray skies and heavy eyes on the way to seminary. I was greeted by the cheery faces of happy people and tantalizing scents of maple syrup and bacon. It was the final day of our annual "Be a Real Friend" week. The desks that spanned the double wide were littered with brightly colored notes, and as people realized just what they meant to others, faces flushed crimson and grins seemed contagious. Despite the happy air and the aroma of free breakfast, my eyes were heavy with tears and my heart heavy with dread.

I played the piano that day, just like I usually did. And as the melody and words of "Be Still My Soul" hung in the air, they hit me with the full force of sorrow. I stopped singing, my throat tightening as I fought off the pressing tears. The song ended with a prayer in my heart, and the silent wish to be still and be strong.

Pushing sad thoughts from my mind, I began sorting through my stack of notes, and on a yellow piece of paper, I found the single most beautiful note ever written. Tears sprang to my eyes, matched with a sad smile for the boy who had stolen my heart. Weston Leavitt had done it again; he'd taken my breath away with the simple, perfect words he said. And in that moment, my heart ached for him more than it ever had. My thoughts drifted to the boy who would be waiting outside soon, and my eyes drifted to the rain pounding on the window. Outside, the entire world appeared a muted gray. The rain reminds me of so many sweet things, perfect moments, but at that moment, all I could think of was gray.

Gray seemed to be closing in around me, suffocating me in the pain of goodbye. Gray: the area between black and white, neither right nor wrong, and the area where I seemed to be finding myself more and more often. Gray is the place where the lines are blurred, and as I began questioning whether what I was about to do was right or wrong, I remembered that his favorite color is gray.

That's all I could think of as I walked out into the rain, clutching my precious yellow note, and slid into the off-gold Taurus waiting for me. I was met with those dark eyes, staring at me with more intensity and questions than I could handle. I returned the stare for a moment, and then looked back to the rain sliding down the window. Our hands intertwined automatically.

We made the short trip back to the school, pulling into the cinder parking lot. He shut off the car and just looked at me. I sat in silence, debating my options; desperately seeking any way to avoid what I knew was coming. "Weston, it's over." My shaky voice threatened to break. I squeezed his hand hard, willing him to understand, my heart tearing with every word I spoke. "I can't do this anymore. WE can't do this anymore. I hate to say it, but somewhere, you messed up. I'm not the girl for you. I can't be your girl. I'm so sorry..."

I choked on the words somebody else had placed in my mouth, but I said them. I felt defeated and worthless. I could see the pain the words were causing the most beautiful soul I'd ever known. My parents didn't understand, and they probably never will. I could not explain it to them, except to say, that people come into our lives for a reason, and I had fallen in love with this boy. I didn't, and don't, think it was an accident. There is a reason Weston and I fell in love. "Manda..." he whispered, staring at me, pleading with those gorgeous brown eyes.

In that moment, I made a decision that changed me, and my best friend, forever. Every perfect moment between us flashed through my head, along with every fight with my parents, every time I had cried for the boy now begging me to stay. I closed my eyes, praying for the strength to do what I truly believed was necessary. "Weston, I love you," my voice caught at the words, realizing the truth behind them. "Do you know it?" My eyes searched his, begging for him to recognize that same truth. "We can't do this anymore, not because either of us ever did anything wrong, but because it's not time yet. I'm too young. You know that. We cannot be together, and we won't be. But I want you to know that you have made me happier than I've ever been and given me the best memories. You will forever be in my heart. Thank you, Weston, for being my best friend. I'm sorry it has to be like this. If I could change it, I would."

We sat there for a long time, holding hands, gazing at each other in silence. "I have to go, Weston. The bell's going to ring..." I let go of his hand, giving him one last weak smile, and watched in absolute horror, as a single tear slid down his cheek. I froze at the sight, the magnitude of the disaster I'd created settling in. In that instant, my heart broke. Every defense I'd ever built up crashed down, and emotion flooded over. Our tears ran freely, and we both cried for our broken hearts, succumbing to an inevitable, yet overwhelming bitterness. It was a cruel thing for two to fall in love, only to be forced apart by reasons that were not really reasons at all.

Finally, I pushed open the door, letting the rain add to our mix of water. "I have to go…" I mumbled half-heartedly, broken and beat.

"Please don't," he begged, grabbing my hand in desperation. I did not look at him as I stepped out of the car. I had no strength left, and collapsed all of my weight onto the door, oblivious to the rain soaking me through. I simply stood there, staring into the eyes of the only boy I've ever loved, while tears carved scars into our cheeks. I saw the mess I had created, felt the pain of breaking, and prayed once more for strength.

I whispered goodbye as I shut the door, and turned my back to the boy I loved. The sound the slam of that door made hit me like a hurricane; it was the sound of a thousand doors shutting, of my dreams ending, and of our hearts breaking. I walked away from that closed door, out of one storm and into another, gray skies pressing down. And as I walked away, tears silently streaming down my face, all I could think of was the fact his favorite color is gray.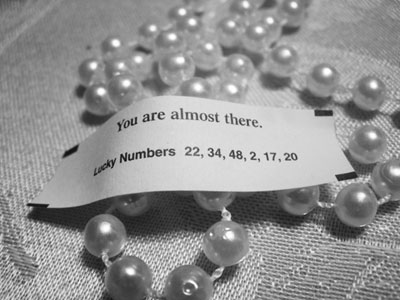 © Elizabeth E., Elmhurst , NY