Memories Of Hard Times
August 9, 2012
Part One

Ever since I could remember,there was a memory of mental and emotional abuse. After my two younger brothers were born,all the attention went to them. When I turned eight, I already knew how to take care of kids.I started to take care of all three,even though I shouldn't. My parents worked too much and even when they were home, they never paid much attention to us. There would be huge arguments that would escalate to hitting.The earliest I remember is when I was five and my mom had screamed in my brother Matt's face and slapped him till his face was red. When I was younger, my mom had stole food from the store in front of us and taught us how to steal. My mom wouldn't buy me any clothes, so I stole some. In my fifth grade year and some years after and before she had kicked me out for a period of time to where I was homeless and had to fend for myself.During elementary, my uncle died from a heart attack and I felt a loss earlier that day.

During the summer,in June, before my sixth grade year, I had left the house,to get away from the heated arguments that was going on. To my right, was a wooded forest and to my left was an apartment and two to three houses. It was dark and could barely make out any shapes. I heard rustles of bushes nearby and some panting but didn't think anything about it. Someone grabbed me by my right arm and pinned me down, gagged me,bound my arms together and this guy had started beating me. He held a knife in his hand and cut me and stabbed me several times while he raped me. I cried and hoped it would all end soon. He said if I told anybody, he would kill me. I was afraid. When he left I got up and ran out into the streets,thinking he was coming after me. Fear rose up inside me and terrified, I ran to the hospital. They took samples from me and I talked to the cops.I walked home and went to take a bath and sleep. For the next few months, I didn't go to school and barely slept because I was terrified he would come kill me. I had told my mom,dad and Matt what happened but they didn't believe me so I would sit in my room and cry. My self esteem deteriorated and almost vanished. I went to go see a psychiatrist and I was put on anti depressants,mood stabilizer,anti anxiety,and bipolar medicine.

During middle school, I was sexually assaulted by an older man in a store and molested. During my eighth grade year, I became more positive and found out what I wanted to be. I made a best friend that I knew would last forever.

I had been kicked out again several time and been called fat,b****,w****,s***,skank and other bad names by my mother when she cheated on my dad. I had started drinking and smoking pot but when I almost died I got myself into rehab. I almost tried to kill myself by taking all my pills, cutting and taking other drugs.

I had found out one night that one of my best friends Jennifer died from having a seizure in the bathroom at home,I tried to kill myself again. She kept me up and made sure I did what I needed, and it won't be the same without her. I cried and morn for days. I went to the fifth ward for her funeral. I felt like I was lost and God just kept taking all my loved ones away from me.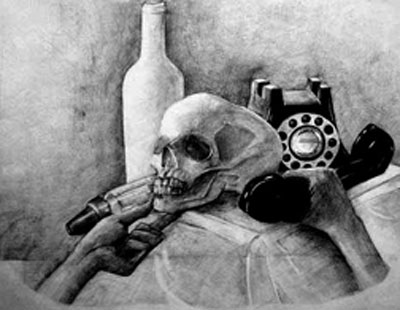 © Xiao H., Naperville, IL