Tap-Happy
August 10, 2012
"Fake it till you make it" is the mantra for those who can't "break it down," "shake that thang," or "work it" like a Catholic school girl. I still cherish that motto like a nun does her rosary. I don't have a natural groove like those lithe Bat-Mitzvah dancers who can make the Electric-Slide look like mobile poetry, so I cling to what confidence boosters I can find. On the dance floor, I compensate for my lack of skill with humor. I can't moon-walk to the center of attention where the best dancers go, so I saunter there instead and work "The Sprinkler," "The Charleston," or "The I'm Making and Ass of Myself Because I Want to Impress Everyone." Laughter signals my success.

In the privacy of my basement, I abandon my party dress and self-deprecating attitude, donning instead a ratty t-shirt, spandex, and tame heels with scuffed taps on the soles, making those shoes deadlier than any stiletto. I exchange faux-dances for familiar names and rhythms: time-steps, shuffles, pull-backs, wings. With nobody to impress, I let loose swinging limbs as I please; it's not like the Elliptical will comment on my routine, or the barstools will give repugnant smirks As my feet acquire rhythm in the tap shoes, my thoughts do, too:
Stomp hop step flap step stomp…

Contrary, on a dance floor my spastic moves reflect my frazzled thoughts and leave me panicked.
Should I do it? It could be so much fun! But then again, what if I look like an idiot?

…hop stomp step flap step stomp…

But I could be so funny! But what if it's the wrong kind of funny, the kind that earns me an immortal nickname like "Spastic Spivack" or "The Soaring Bra?" Oh, God, they're looking at me…CHARLESTON!


…hop step flap ball-change.

Though party music, with its pulsing beat, provides decent tap-dance music, I would rather embarrass myself with pitiful quasi-hip-hop than break into a routine in front of party-goers. At least then other kids would understand; this poor girl just wants to have fun—it's not her fault she's graceful as a manatee. But if I started a double-time step, I would only get confused looks from my friends and glares from nearby kids with squashed toes. My taps wouldn't even sound, the deafening music smothering them.

I'd be more willing to tap at parties were I a super-human Broadway star who could execute acrobatics in the middle of a complicated routine. But with what little knowledge I've gleaned from one dance-based musical and three weeks of lessons, I'm about as skilled as a nine year old dance diva. But without the pressure of procuring a dance career, I can tap for my own pleasure.

Without external criticism, my self-evaluation is ruthless; I practice with the scrutiny of a Korean piano teacher. Whatever possible taunts my dance-adroit peers could spit don't compare with my own harsh assessments.

Shuffles are good. Not great. Again!

Your dancing makes Gene Kelly cry. Again!

Sprained ankle? Again!

You call that a time-step? More like time-s***! Again!

Perfect! Again!

While disciplined practice comes with aching legs and a sticky t-shirt, it also releases stress. The details of dance parties vanish; I don't have to check if my eye-liner has smudged, and I can sweat as much as I want. My haven, devoid of throbbing house music and sweaty, scantily-clad bodies, becomes a sanctuary where I stomp my tension into the concrete and perspire my worry in solitude.

As some party winds down, I stagger from the dance floor, relieved I managed to avoid embarrassment. Eager to return home and run to my make-shift dance studio, I kick off my heels and do a few shuffles while nobody pays attention. When I emerge from my basement later that night I don't look pretty--sweaty and breathless as a champion sumo-wrestler. I've lost the make-up and the stilettos, but I've stopped faking it.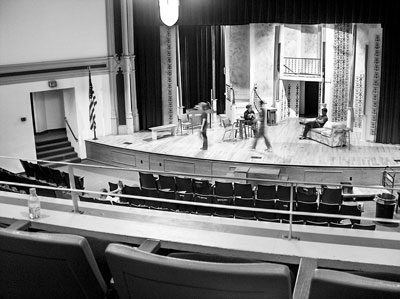 © Sean C., Princeton, IL