The Beginnings of the Sky
July 16, 2012
Sometimes I toss and turn in my bed, replaying the primate-like power of scrambling nimbly up a maze of swaying branches. I smell the warm, moist aroma of dirt and the almost acidic tang of flourishing cedar branches. I feel the remarkable tenacity and strength of the jewel-like tree sap.

The path to the tree was easy enough to follow; I've walked it a thousand times in my dreams, and a thousand more times in real-life. The path was not one that could simply be walked. I would always feel an uncontrollable urge to skip down the stairs, sprint across the grass, and weave my way towards the tree. Ducking under the canopy of cedar branches, I would finally be home.

Nimble as a cat, I'd jump to the first branch, my hands flicking through the air to find the perfect balance of stability. I stood up tall as a tight-rope walker and propelled myself upward, using the sawed-off branch that was meant to stop me from climbing as leverage.

High in the swaying tree branches, I paradoxically felt safer than anywhere else in the world. The gentle rocking of the tree felt like a smooth extension to my own body; the limbs a thousand extra arms and legs, the trunk a million extra vertebrae for my petite little back. I was so happy up there; wild and free with my hair brilliantly tangled in the wind.

Now an older and more mature teenager, my dreams still wind and tangle through the uneven tree branches: never able to climb, but still twisted and pulled by the phenomenal strength of the tree's own sticky blood. Some homing instinct inside of me screams for the childlike fantasies, the ridiculous dangers of ascending to the very beginning of the sky. Finally I roll out of bed, sneak through the sleeping house, and go home at last.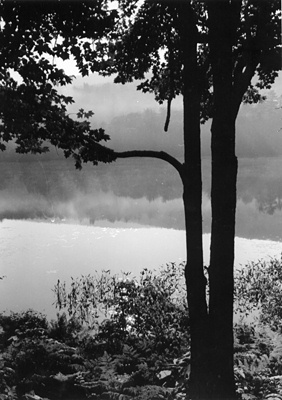 © Steve S., Marblehead, MA