Ode to A Pizza Place
July 9, 2012
There's a restaurant I go to sometimes with my parents that sits across the road from one of two lakes in the city. It's a nice place but not the kind of nice where you tug at your clothes nervously or get confused by the number of forks next to your plate. Just nice enough.

The smell of hot pizza floats through the low-lit building, even down into the parking garage. We always ask for a seat against the large, glass windows. I like to see the way the city lights bleed into the water and how the sky seems a million times larger than during the day. The darkness feels endless. When it's nice enough we sit outside above the racing highway and watch the boats come in.

On most nights there's a wait for a table so we will walk next door to a terrace that's really the most beautiful thing. Kind of gigantic and uniquely designed to be round in ways a building probably shouldn't, the light stone it's made up of stands out against the grey buildings that surround it.

A winding ramp leads to the top and soon we're a hundred feet above the dark water, looking down at the glowing city. If I squint enough the lights mix together and appear to be on fire. Oh, my burning city. Still the breeze is light and the air is clean and cool against my face. It always seems perfect there.

The floor is made up of hundreds of tiles with different names of people I don't know. I read a few and wonder who they are, what their favorite movies are, if they're even still alive. Trees are planted symmetrically across the whole of it and look unnatural against the hard, stone edges.

I know they have weddings there, above the city and the world. I imagine white, circus-like tents with twinkling lights strung underneath, blurry in the darkness and making everything a little big magical. Soon I can hear the music start to play and see the people start to sway. The champagne makes the people blurry too, until the whole scene is just a mess of whirling wonderful.

I blink and come back to the deserted rooftop. It's quiet and suddenly lonely. The water is calm. Far behind me the downtown streets buzz with drunken college students and wandering tourists. The stars are dim but I know they're there. I take another deep breath of the cool air and feel it rush through me. Just then I get the call to come back – there's a table ready for us. I say goodbye to the empty chairs and imaginary wedding guests. They wave politely and I know I'll come back soon.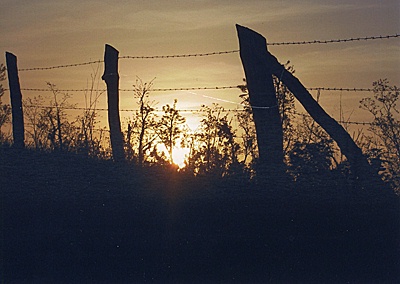 © Michael T., Letart, WV