A Look In the Eye
June 13, 2012
When I was a kid my dad used to teach me to look people in the eye. This wasn't so common in Korea back when I lived there: looking adults in the eye meant disrespect: it meant you thought you were equal to your elders. Still he told me to look people in the eye when talking.

"It shows them you mean what you're saying"

I could only believe in the dark sea of his pupils directly reflecting my own.

----------------------------------

The most vivid memories of my father lie on the white couch in front of the black table on the fourth floor of our villa in Seoul, Korea. I would always be holding tightly onto my brown, coffee colored cushion sitting in an upright fetal position.
From my father's breath I smell the bitter scent of alcohol and I notice his face is red like a dying ember. His cold hands touch my face and quickly I pull back surprised. Slowly, he turns around and looks far out into the abyss of our living room. Then from his mouth he utters a few words: "Noah, you know you're my only son, I really love you. Don't forget that".

I'm waiting for a look in the eye, maybe just a quick stare, but instead he seeks something from the empty space before him.

His words fall flat before me.

I feel a large weight on my chest and a strong ache begins to choke my lungs. The pang deepens as a weakness spreads through first my chest and then my limbs.

It feels like my body is about to break.

There's a hole through my body. I need something to fill the void of my own emptiness. The air around me is sucked up into a vacuum: my lungs fall dry as they expand while my heart starts to pump blood rapidly. Adrenaline rushes through and I gasp again yearning for some air but there's nothing left to breathe.

Quickly, my vision gets blurry as I turn to my dad and the last things I see are my father's eyes reflecting nothing but the darkness before him.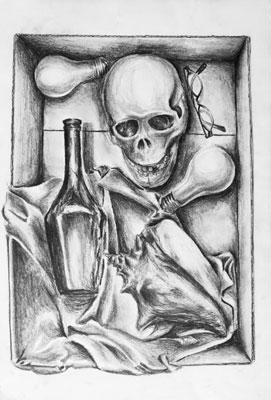 © Karen S., Norwalk, CT