I was Bullied and Once I Became the Bully
June 12, 2012
Bullying, bullying, bullying. Bullying can be defined as someone who purposely and repetitively is bothering someone else, either vocally or physically. It has always been a big issue. But now many people are actually getting involved and trying to solve this problem, because it has impacted many people, due to people taking their own life away due to bullying.

Around the same time Prince took away her life, in February of 2010, the Boston public school started taking bullying more seriously. At that time my friends and I were playing around, and then jokingly I told one of the girls, "You have big lips like a gorilla". At first the girl did not feel offended, until someone made her realize that what I said was a racial comment. Since that hurt her feelings, she decided when she would come back from break she would report it. I told her that I did not mean to offend her and that it only happened once it will never happen again. But the girl still wanted to report it. I begged, cried, and pleaded for her not to report it. Even my mother asked her to forgive me or at least not report it because it was a misunderstanding. But the girl was determined for me to get punished for what I did for me to learn my lesson and not to accidently say something like that again. When she reported it, I got suspended for one day for bullying and racial criticism.

I disagree that what I did was bullying due to my past experience. I had gone through worst than her and never reported it. I dealt with my issues, due to the help of my friends. In elementary school and middle school I would come home crying. I would get picked by the same people over and over again because of my weight, the way I walk due to my scoliosis, the way I dress because I had no converse or stylish clothing, for not knowing enough and for knowing too much at times, . Sometimes during recess I would even get thrown on the floor.

Bullying was a big issue in my life. But I have learned to deal with it. Because whenever my friends would see me suffering they would stick up for me and deal with the bullies for me. What nice friends I have? Now me and my friends go to different school and I do not need their help anymore because at the school I go to no one bullies me. People around here all joke around but now I am careful with what I say. If you are being bullied your real friends will help you get through it. If you are a just a person who never got bullied, watch out with what you say or do because you can end up being a bully.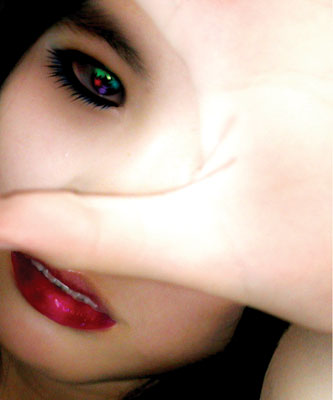 © Victoria W., Arcadia, CA