Euphoria
July 7, 2012
Home is like the albino tree shedding it's leaves, it's like a summer time moment unable to be potrayed by that photograph you managed to snap. Baking bread, or cooking meals, it's a frozen hearth thawed by heat emmited from the dwellers' hearts. Through the heating vent, songs of all type emerge, from Mexican gospel songs, to Adelle's "rolling in the deep" all the way to African hymns, it's a vocal concert. The constant tapping on the computer keys, like mice scurring about, inspires the thought of straight A papers and enrapturing essays. Home….where milk flows like honey, boutifull and rich, and where beans satisfy the babe's hunger that runs vast.

Saturday morning, the sun peaks through the crack between the window shades, sprinkling light onto my immaculate white walls. My dreams slowly creep to the corner of my mind, as the day approches refusing to return till dusk. I groan and turn around in my covers, pull the sheets over myself, to bring back the sleep, and wait for twenty-minutes, my attempt for rest is impervious and I slowly open my eyes and peer at the clock, it reads 8:20. I scan my room and avert my eyes to the dancing squares on my wall, I marvel at this, even though I see it every sunny weekend, and atare up at my ceiling. I scan every corner of the roof for possible spider habitation and sigh a sigh of relif, that is before my eyes laugh at me and elluminate the body of a hairy legged beast cowering at the corner, I bolt upright from my bed, jump off onto the lower bunk and sprint out the door.

I quickly gather myself together once I'm in the hallway and head to the restroom to relieve myself after my long ride on the midnight train. I slug to the kitchen, taking my time and slump myself on the couch like a sack of patatoes. My mother, who already ate breakfast and awaits in her running clothes for me to wake up like the rest of the world, sits at the table. I greet her good morning, and head off to shower, brush my teeth, and change into running clothes. We head out the door, we are champions in our heart, our day has began.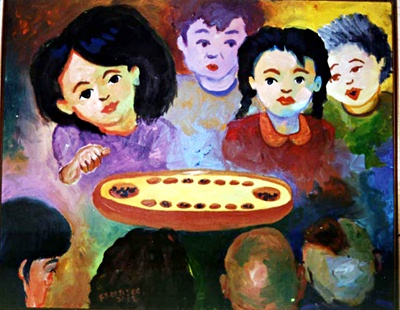 © Fransisca A., Surabaya, Indonesia