Seattle Times
June 1, 2012
I remember when I went to Seattle to watch Seattle Sounders VS FC Barcelona. FC Barcelona was a soccer team from Spain that at the time was the best soccer team in the world. A lot of people were expected at the game because not only Barcelona was the best team in the world but because they also had the best player in the world Lionel Messi.
That was the main reason why a lot of people were gonna be there, people wanted to go see him play. Messi was a big sensation to the FIFA anyone would die to see the best player in the world play let alone playing in Washington.

My music teacher Mr.Waywell took a group of kids from school to go watch the game and asked me if i wanted to bring someone else so i brought my dad, i thought it would be cool to spend some time with him father and son time. It was 3 hours and 20 minutes when we arrived at Seattle the whole group went into the parking lots to park the cars so we could walk to the stadium. The stadium was only like 3 blocks away from the parking lots. Once we got to the stadium we quickly got in line so they could scan our ticket to go in and find our seats in the stadium,

Before the game starts security guards allow you to be on the edge where you could go watch the players it was cool because i got to see Lionel Messi up close ! He was only like 20 feet away from where Me and my dad were standing. He was short compared to all the other players thats why they call him "La Pulga".

It was getting time for the game to start so we took our seats, The stadium was packed! we knew it was gonna be a great game, Well for the Barcelona fans. People were expecting Barcelona to smash Sounders they were no match for Barcelona but yet this game was packed for excitement ! to give the crowd a good game to remember forever, and it was indeed !

Barcelona ended up winning 5-0 ! it wasn't really a shock for the Barcelona fans because they were the best team, no other team could compare to them but it was not only about who was the best the fact was both teams wanted to put up a great performance and give the fans what they wanted and it was a great success in the end.

It was a great day with my dad when i went to go see Seattle Sounders vs FC barcelona. this was one of the most exciting games that i have ever experienced and a day in my life i will never forget.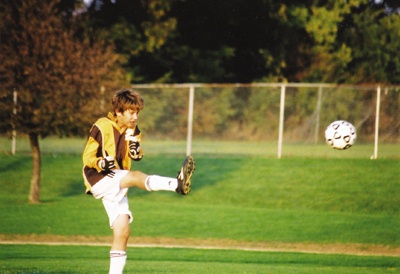 © Lori S., Springfield, OH