MT ADAMS
June 1, 2012
In 2008 my dad, my brother and I were going to climb Mt.Adams. We started renting, packing and buying all the supplies we would need.

On the day we left we left really early in the morning. We got to the mountain at 7:00 or 8:00am.We got everything ready.We double checked our packs and started up the mountain.

It took the whole day to get to base camp. The only camp we would make.It was getting dark so we set up camp, ate dinner and went to bed.

The next morning was a full moon and we woke up at 3:30am to get an early start.We ate breakfast, packed our day packs and started up the glacier towards lunch counter.

When we got to lunch counter we walked to the base of the false summit.The hardest part of the hike.We rested for a few minutes.I remember thinking this is going to take forever to get to the top.

When we started up the false summit.We got a third of the way up when the snow started to melt and we were sinking up to our knees.So we had to go to the rocks and climb on them.The rocks were frightening because they were steep.

When we got to the top of the false summit; I remember thinking we were almost to the top of the mountain.We went to a rock that as called Pikers peak the rock had words in it and had been struck by lightning.Once we were rested, we started going up the summit the easiest part of the hike.When we were going across the crater I was thinking of how many feet of ice there was.

When I saw the top I got excited and sped past my dad and brother.When I got to the top I pulled out my radio and called to my mom who was still at home.We talked a while she wished she could be there with us.We took lot's of pictures and mental photos.

We were on the top for a long time.We walked along the rim of the crater looking at the view. I asked my dad how many times he has been up here.He said he had been up 10 times.

When we got back to camp we ate slowly and went to bequicklyey enjoying the rest.The next day we slept in.once we were awake we ate, packed and headed down the mountain.When we got back to the vehicle I was excited to be off the mountain.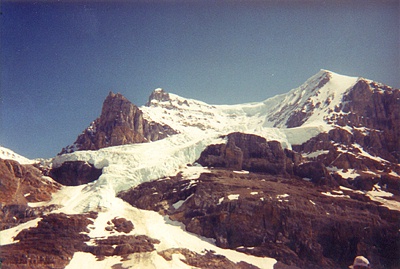 © Julie B., New City, NY