Summer Of 2010
June 1, 2012
It was the scorching summer before my seventh grade year, "Girls!" My mom called us. She had a serious look on her face. That's when my world turned upside down.

I didn't know what to do, we had a couple of months before my mom took any action. We were moving out. Without, my dad. That was one of the hardest things to do, keeping it a secret from my dad.

The dreaded day had finally came -We were moving out- We had to pack before my dad came home from work.

My mom wrote a letter, glued it to the refrigerator with a magnet. Then we were on our way.

Later that afternoon, my dad called, "Hey, where are you guys?" Millions of responses floated through my head and went right out again. I answered with a flat, "Uhhh. . . I don't know."

We went back to my dad's house. Just to say bye.

My parents did not talk to each for almost a year. Until. . . the day my brother got caught drugs -Marijuana-

My dad came rushing from work. I was babysitting. When I got home, my dad, was there. They both stared at me, blankly, as I walked through the door, and to my room.

Months later, I remember walking into the creaky kitchen, and hearing my parents fighting. That was nothing new. As they walked out of the bedroom, my furious dad, said to my mom. "Just go home." He turned to my brother, "Take her home." That's when my mom dropped to her knees. She was crying. I felt sad for her. She began saying she wasn't going anywhere.

Then I realized, that I didn't feel sad. I felt angry, and frustrated. Just because she was supposed to be a strong mom. She was supposed to have self respect so I could look up to her. She was supposed to be. My role model. And to me, she was none of the above at that moment.

My brother finally picked her up and took her home.

I started thinking. Why would she act like this? She has never acted like this before. My head started throbbing. Many thoughts ran through my head.

Later that month, my parents decided to enroll me in therapy. Only me. Nobody else. Not my two brothers, or sister. But me. Giving me another reason for me to keep my distance from my parents. I went a couple of times, then decided I didn't need it.

"Come here. . ." My curious mother said one steamy July day with a warm phone in her hand. I listened. She figured out way to hack my dad's voicemail. I heard a female's rusty, lazy voice. My dad, who was talking to a women. Someone who wasn't my mom. I know, I don't want my parents to get back together. But I don't want them to be with anyone else.

My parents are still talking. My dad no longer has a girlfriend. He has my mom. But we are still loving separately, but I like it this way.

Divorce or separation, is always hard on a family. Especially families that have teenagers. Teens deal will deal with it the best way they think will work. But it might affect their relationships with their parents and others. It may either make them or break them.

My parents may have separated but it wasn't because they didn't love us. The thought it was the best thing for us. And, it probably was.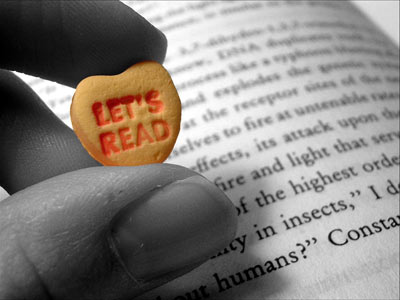 © Amy D., Troy, OH