The Divorce
May 31, 2012
It's always surprising how much a person can remember from theings theat have happened over thee years. I was in 6the grade and in 4the period English Class. The teacher had just assigned us silent reading time. I was called out of class to go to the office. I didn't think anything of it so all I took with me where the books I had. The rest of my stuff stayed in my locker. Come to think of it, I bet that stuff is still in there. I went to the office and to my surprise my mother was there.

My mother said nothing as she pulled me out of thee school. What I didn't know at that time was that was the last time I would ever see that school again. I saw my grandmother behind the wheel of her white van as we left the building. As we drove away both my mother and my grandmother refused to answer the questions I threw their way. I remember the only thing my mother told me that long car ride was, "We're leaving." After a few minutes we pulled up to a building. Immediately I knew it was an important building. It was a large, bulky looking building that's outside was gray. The one thing I noticed after a few seconds was the large white sign stretching across the top of the building," CHILD SERVICES."

My mother and I kissed my grandmother goodbye. She pulled out the parking lot and didn't look back. We made the slow walk up to the building and inside it. My mother took a few minutes to feel out paperwork. Soon a woman came out and greeted my mother and I. She took me back into one of the conference rooms. We sat down at the table. I remember we faced each other for what seemed like hours. It reminded me of a dog and his owner staring each other down to see if the dog would get human food or not. I felt like the dog. The woman opened her mouth and told me why my mom and I were here. She explained that she was a social worker and I was here because of the simple fact that my father was alcoholic.

The social worker told me that my mom had been given 2 choices; either leave my father or don't and I would be forcefully put into a foster home. She told me we were going to be put into a shelter for battered women and their children. After that bombshell she started asking all these questions about if my parents fought, if my dad drank a lot or did he ever hit me. I was hysterical the whole time. A few minutes later she talked to my mom and then we left to go to our new "home".

The building we pulled up to wasn't admirable either.It was tall and a pale peach color. We walked inside and were ushered to another conference room where we were told the rules. My mom and I were taken to a new room where we supposed to "make ourselves at home". That was the moment when I finally snapped. I turned to my mom and started insulting her in every way I could think. I screamed about how I hated her and how she had no right to take me away from my father. I told her how I would never forgive her for this and how she wasn't my mother anymore. The whole time she stood there in silence. She didn't defend herself. She didn't yell back at me. She didn't blame Dad for anything. She didn't make any promises. She let me grieve which was probably the best thing she could have done for me.

The people that I knew there each affected me in some way today. My dad and I reconnected. My mother and I don't have the best relationship, but we're working on it. The whole point of this article is to say, "Let go of the past"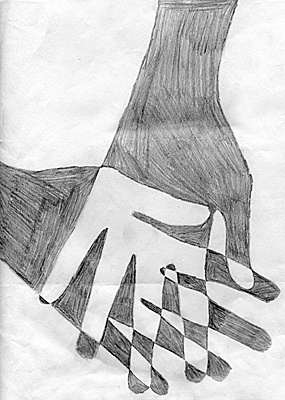 © Warlito B., Tamuning, GU