Eyes Wide Open
May 31, 2012
I had lived only 10 minutes from Lake Michigan for almost my entire life, yet had only been there once. I was nervous as we slowly walked hand in hand down a steep incline, the crashing waves below us. The nerves shivered my spine and core; especially, under the quake of the frozen winter night. Finally reaching the beach, I looked out at the endless water spanning out from the edges of my vision. "It's beautiful," I said.

I read once that people should fall in love with their eyes closed.

But I think I have to disagree. If I hadn't seen the beach that night with eyes wide open, it wouldn't have meant so much to me, to us. With a glimmering stare I saw that love can paint waterfalls right in front of your eyes, that the sky can narrate your passion, that something beautiful can be sitting right in your own backyard, and maybe the magic isn't noticeable until you're with someone who ignites it. I watched as I saw someone I liked, now loved, change shades under the moonlight, like a crystal ball, shattering the ghosts from my past into images of a future.

I heard the whistling of our midwestern ocean, finally calling me home, letting my imagination take me to the tropics, away from the icy Wisconsin December. I learned that the soothing crash of waves, and goose bumped skin matters just as much, as the way someone's smile erupts radiantly under the trance of love exchanging from one hand's warmth to the other's cold. Glitter danced on tops of freshwater curves swaying back and forth, and I memorized the way our feet mimicked the motions of the water hugging the shore with every hush of the night, never letting go or taking away.

Sometimes when I close my eyes, I can re-envision the magical night at the forefront of my pores, itching for the surface, like a mermaid desperate to see the face of an unknown prince she once laid delicate eyes on. That night, indigo waves were cradled by a black blanket, and mesmerizing city lights shimmied over the surface of the water in the distance. Something so beautiful, my heart remembers that sight perfectly, like a polaroid carried in her back pocket. An image that I know will never fade from time. That even if the shades gray, and the corners curl, deep down I'll still remember the wonderstruck way I felt, as I watched with glimmering eyes, eyes wide open.

And I read somewhere that people should fall in love with their eyes closed?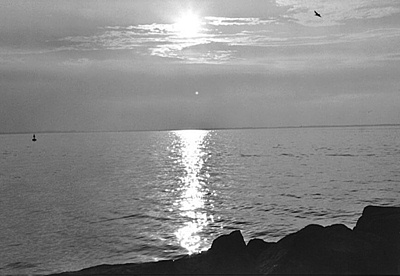 © Amanda L., Cumberland, MD