Wally
May 30, 2012
I waddle over on my stubby, two-and-a-half-year-old legs and stop in front of Wally's knee. He's parked on the gray-green couch, leaning back into the cushions with his hands clasped and resting on his potbelly. His eyelids flutter in the spot between consciousness and sleep despite the jolly ruckus of conversation and giddy waves of laughter due to the family gathering for Easter Sunday. As soon as he feels my presence, he blinks twice and looks around. His gaze catches on me, his youngest granddaughter at the time. I take in his white hair and friendly eyes that hold harmless mischief, wondering what words he's about to speak from his partly toothless grin.

Wally reaches out with his right hand and gently plucks the tip of my nose. "Gotcha nosey!" Between his forefinger and middle finger is something round with the same pinkish color as skin. What's Grampy up to? He surely can't have my nose in his hand. I lift my finger to inspect, and my nose and face are still in tact. I look back and see Grampy still grinning at my wide-eyed, puzzled expression and the cleverness of his trick.

Oh, I get it now. I lift my hand and snatch the "nose" from his hand. Then I slip my thumb in between my pointer and middle finger. "I got my nose back!" A thumb resembles a nose almost perfectly! Wally gives me a knowing smirk and utters a chuckle. He raised an eyebrow to challenge me for my "nose" – like he is thinking so you think you can hold onto that for long.

Meandering wrinkles form around his smile and grow out from the corners of his eyes as he keeps me occupied for ten or fifteen minutes just claiming imaginary noses. That's how I will always remember him: white tuft of hair on his head, a gap replacing his two front teeth, still leaning back into the couch, but an expression that emanates life and energy, and a childish trick that reflects his subtle prankster personality.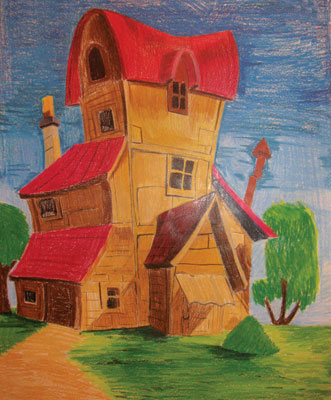 © Ronald W., Sherman Oaks, CA