18 Flickering Candles
May 25, 2012
They are the ones that tell the truth. I am the one who can see. 18 candles now stand, with wax dripping down their sides and flames protruding from their tips. 18 pillars strong, amongst a collection of individuals, each knows less than the other. From my seat I see them, their smoke and heat clouding my doubt and deception.
Their meaning is unknown, and yet it is known. They protrude from the concoction of milk, eggs, and sugar—like waxy pillars reaching out to the heavens above. They offer truth, but that which is cruel and unaccepted. But they stand firm, their flames cutting through the lies and deceit. But soon the fire will go out, leaving a cold, desolate void. No truth, no knowledge. There is nothing. Forever. This is how they exist.
I feel my chest starting to expand air and smoke filing my lungs. My stare falls on the candles, on the flames that dance above the flickering pillars. Like a ballet, they spin, twirl, and flicker; they ignite a feeling of passion from within, their beauty unparallel.
More air seeps into my being. The flames now begin a symphony of light, heat, and beauty. Fire and truth are molded together as one. More air is pulled inside, and the dance becomes more erratic. The smoke continues to flow into my chest. The rapid dancing rapid as causes flames to flicker intensely. My lungs are about to burst. I beg for release.
The dancers begin a spectacular finale. I yield, and the air is released. The show has ended; the dancers have halted as the flames lie still. A breeze releases them now. 18, 17, 16, 15. The flames disappear as the performance subsides. …8, 7, 6, 5. Warmth is escaping and the flickering turns to nothingness. 4, 3, 2, 1. And silence falls. All the dancers have retreated from their stage.
When it is done, I stare at 18 empty pillars—once so prominent and with seemingly unnatural beauty—now lifeless and cold. Applause follows from far away, for a show concluded long ago.
18 pillars lifted from their rooting, their embers echo truth long forgotten. And nothing but a cold void remains. My eyes reflect the hollow longing of the past unwavering and unmoving.
I long for the dance of fire and beauty, a performance so filled with life and truth so longed by many. But the flames are out, the truth is dead. Knowledge lost forever. Now, there is nothing but a cold, desolate shell.
Only one future remains—one without reason and without meaning. This is the way, as the dream flickers and dies away, forever.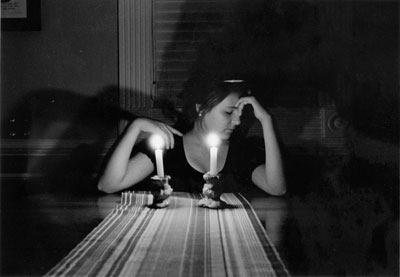 © Eleanor K., Bethesda, MD