A Simple Wink.
May 24, 2012
The twelve foot glass doors open and closed again, again, and again. I heard the sounds of the doors clapping together for what felt like hours, opening the world to Menards™. The flow of customers was heavy both ways, in and out. That's when he walked in. I recognized him through the crowd; I kept my eyes locked on Jason as I continued to ring customers through my register lane.

"Thank you for shopping Menards™, Have a great day," I repeated as another customer walks through my line. I kept my eyes locked on him until he was out of view, out of view but not out of mind. Something inside me jumped like a little girl walking into a candy store for the first time. I locked eyes with Jason again. He was carrying a wooden pole, maybe 2 feet long, headed for the checkout registers in front of the clapping glass doors. I was on lane five that day, right next to lane six; which was famous for six items or less. I figured Jason would take that line to slip out of the store quicker, I was wrong. He stood there in the back of my line behind a man with a cart full of untagged wood, holding his one item. I glanced back to him and smiled, he gave me a smirk back. I quickly went back to looking up the untagged wood, trying not to let Jason notice my excitement.

I used to know Jason price, once upon a time. That was my freshman year in high school, and this was senior year. A lot of time had passed between then and now. I puzzled myself as I tried to remember why Jason and I ever stopped talking. I couldn't think, all that ran through my mind was why he waited ten minutes to go through my line instead of quick lane six. What was in it for him? 45 seconds of social interaction with me hardly seemed like a prize.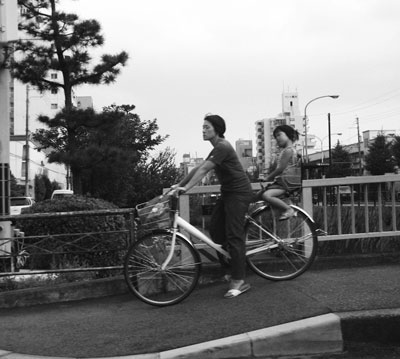 © Elizabeth C., Andover, MA