Hope for the Future
April 27, 2012
A couple years ago my family and I found out my grandma had cancer.

She was crying a little and so was our most of the family. When I found out I cried. She talked to her doctor about things she had to do to get better. Her doctor told her to go to Karmanos, a hospital for treating cancer. After my mom learned a little more about what cancer is and what more it could do to a person's body, she took matters into her own hands to prevent my grandma from hurting herself.

My grandma's bones are already weak and the cancer wasn't making it any better. We decided that she should move with us. She didn't sell her house but she did bring a few things with her like her birds and some clothes. Shortly after she moved in she scheduled an appointment with her doctor.

Her appointment with the doctor showed her how to do exercises that will make her bones stronger with hurting them. The treatments she had to do helped her a lot even though she didn't want to do it, but to me they seem like they hurt. The cancer made her loose some of her hair. She couldn't do a lot of things on her own and she didn't like that either because she was a very independent person. My grandma basically stayed in on room of the house but when she had to move around she mostly used her wheelchair, sometimes she would use her walker to strengthen her legs and arms.

Soon after going to all of her appointments the cancer started to go away. I was very excited and my eyes became full of tears. She was ecstatic herself, she also told the family "Thank all of you for the support!". The whole family sat around and congratulating her for being so strong. My Aunty told my grandma "I'm so proud of you Rita, I knew you would overcome that you just needed to be patient."

She continued doing her exercises and became stronger and stronger each day. Her hair grew back even longer than before and that also made her happy. She Smile on her face after everything got back to normal was as big as and bright as the sun. She was able to do more things on her own. She still needed help with heavy things but other than that she was alright.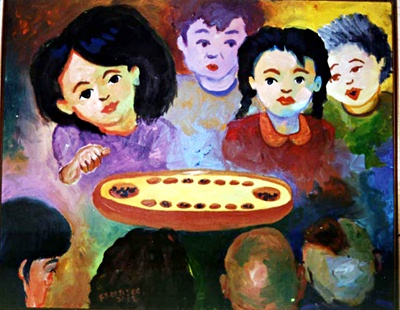 © Fransisca A., Surabaya, Indonesia