Memories That Won't Fade
April 27, 2012
I have a memory that I have that won't fade because the trip that to NORTH CAROLINA. I can't really verbalize about it. I try but I can't forget about the accident that replays through my dreams and my mind. It stays on my mind no matter what's going on around me.

I hate to drive anywhere out of state, every since the accident. I hate that I feel alone or that someone could leave me.

I have a thing about holding on to people. when I got caught over my ex's house on veterans day and I could find a way home so I spent the night and I fell asleep with her in my arms choked around her tight. I had a dream that night about the car accident and in the dream she was driving. Woke up she told me that she tried to get up when I was sleep she tried to get up to go to the bathroom and I snatched her back. When I woke from my sleep. Then she told me that I must really love her. I still I have love for her to this day. For the thing we have been through together.

We split up after that day.

One night I get a call it about 3 o'clock in the morning. it there cousin raynelle she use to be my best friend tell me in a crying voice Michelle's gone I'm half sleep so I'm not responding ''she really gone. Why would god do this to me?'' I get up out of bed with my best friend Geneva. I walk down the stair of her room. Its pitch black freezing I have nothing but basket ball shorts and a t-shirt, a talk to her one the phone till about six and Chanell's sleep ray told me she cried to sleep.

Geneva gets up and she comes down stair and ask "who I'm on the phone with'' Chanell's cousin she gives me the look her hazel brown eye wide open with her bright pail skin I thought you were through with her she's is using u she don't love you. Her voice is at a high level but she not yelling she says I tell her to lower her tone. She says so you're about to run to her, she want you there and you going to go. She tells me that I'm so gullible and slams the odor shut and get into the car and slams the car door shut take off down the street.

Maybe I 'am gullible because I always come when she call and I know that the I'm there for a time but when I leave her boyfriend is probably on his way.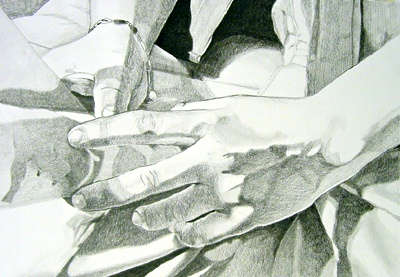 © Leidy E., Spartanburg, SC