A Family Business
May 18, 2012
When I was five years old, my dad taught me my first guitar chords. Five years later, when I wrote my first song with him, sitting next to a campfire in eastern Oregon, I could only remember a D chord. Five years after that, with an intermittent attempt at bass guitar in between, I sat down to teach myself to play guitar. At fifteen, I was the same age as my dad when he taught himself to play.

My dad had the perfect guitar for me. In retrospect, he had probably only bought it because he knew I would end up playing. The man who brought it in to sell it where my dad worked was a 20-something man who was busking (playing music on the street) his way around the country, but for whatever reason, he decided to sell his guitar. It was so dirty my dad didn't know if it would be salvageable, but a good cleaning revealed a tiny honey-colored ¾ size Taylor acoustic. Recently, I found out its beautiful honey color is unique, and that most "baby" Taylor guitars are nearly white. Its color developed from spending long hours in the sun with its previous owner and I.

I remember sitting on my lawn that summer working on my first song—"Hands", by Jewel— and being so frustrated. It hurts, learning to play guitar. My hands ached, my fingertips bruised, my arms smarted. It sucked. But then one morning I woke up, picked up my guitar, and I actually played a song. Not a jumbled string of herky-jerky chords, a song! It's all uphill from there!

When my family took a two-week trip to Hawaii, we left my guitar at home. But, after listening to an album by Israel Kamakawiwo'le, (say that ten times fast!) I ended up coming home with a new instrument— a little mahogany ukulele. Ninety bucks for a piece of wood the size of a shoe box. Crazy, huh? I was playing it passably within a month.

From there, I've bought and learned to play both banjo and mandolin. I've played with a little three-girl "anti-folk" band called Awkward Moxie, and recorded demos of songs I cover, my own songs, and Awkward Moxie's songs in my dad's recording studio.

Music is a bit of a family business. My uncle, Marc, has released numerous albums, both solo and with bands in Seattle, many of which were recorded in the studio, Dogwood Recording, that my father built on our property before I was born. When I was growing up, I remember hearing the "noisy boys" rocking and rolling the night away, while my dad tweaked their sound on a mixing board the size of my bed.

As the music production business crumbled, my dad and I worked side by side, wiping the occasional tear from our eyes, to deconstruct our precious studio and build a machine shop in its shell. Out of love for Dogwood— my unconventional playground, his first business endeavor— we built part of it into a demo studio, carefully transferring the boards that various bands had signed onto the new walls.

It's hard to say music changed who I am, because it's been part of me since I was born. My first song, "Cows Say Moo," was written at the ripe old age of two. My mom sung me rock 'n' roll lullabies— "Sweet Baby James," by James Taylor, "Mining for Gold," by The Cowboy Junkies— and once I was old enough, I sung along. My uncle wrote a song about me called "Extraordinary"; I have it on my iPod.

I don't know what I'll do as an adult. I doubt I'll be a rockstar. But I know someday I'll sing "Sweet Baby James" to my babies, and play guitar by a campfire with them, and teach them their first chords. I will carry on the family business.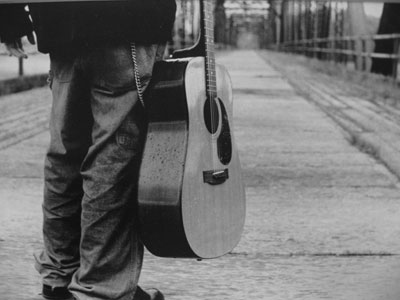 © Bailey M., Eagan, MN