The Yellow House That Sits Upon Cow Crap Corner
May 11, 2012
As I jump out of my shiny blue dodge pickup, the scent of freshly moved cattle manure surrounds me. Noticing I have my foot-tall rubber poop boots on, I don't try to avoid the frozen cow pies that are scattered upon the ground in front of me. As I walk through the crunchy snow to the old yellow house, the crisp air tickles my nose. I place my hand on the door handle and a million childhood memories rush to my soon to be eighteen year old brain. I suddenly remember why I love this place so much.

Entering the house, I approach the kitchen. The green square flooring still remains. It looks dirtier than grandmother left it when she moved out five years ago. Yellow smoke stains appear on what use to be white ceiling from the previous renters. Suddenly, I turn to the left and see the white tile falling off the wall that separates the counter from the cupboards. This counter is where I helped my grandmother cook, where I stirred brownie batter too long, where I licked the bowl clean, where I learned that pans are hot when they are fresh out of the oven and where I asked the most questions. As I picture how the table use to stand behind me, I remember the quote that I had heard every time I was stuck at the table with a pile of lumpy potatoes sitting yet on my plate, "You took it you eat it". The window to the right was where I always watched for father's blue striped semi which saved me from the pile of potatoes. I knew that father would eat them for me.

Seeing the door to the living room straight ahead of me, I decided to take a look. The old worn down dirty tan carpet still remains. Wishing I could look to my left and still see grandfather napping in his chair brought back another memory. If grandfather wasn't farming or in the semi you could find him in his gray reclining chair either munching on popcorn, glued in the television, reading the newspaper or of course napping. I remember playing with toys that were my father's and his sibling's in front of grandfather's chair. There was the little red tractor with a wheel that would never turn, the little pink pig that I would always lose after I found it, the green truck that made me mad because the doors wouldn't open and many more.

As I suddenly stare out the living room window I see a tire swing dangling from a branch. Wishing my old wooden swing still hung in its place I realize how much it meant to me. My grandmother and father had made me a simple swing out of a wooden board and sturdy white rope. I basically grew up on that swing. During the hot sweaty summers, thousands of pink popsicles melted upon my dry tongue while I repetitively pumped my tiny legs. My hands would sweat so much the rope would start to feel prickly as I grasped it while venturing higher and higher in the air. This swing was my life.

Snapping my attention back to the house, I notice a door cracked open; the den. This was where grandmother spent her time sewing, where I always broke the brittle lead on the new mechanical pencils grandmother bought for me while sitting at the old wooden desk, where my cousin and I played the most, where two little blonde headed girls only a year apart discovered their imagination and creativity. This is the place where I was when I discovered grandfather had a crush on celebrity Shania Twain. He was getting very excited and started screaming when she appeared on television strutting her stuff and showing off her lovely voice on stage. That's when grandpa said, "She is a very nice looking woman."

Giggling, I walk back to the kitchen finding the door to the upstairs. As I journey up the creaky wooden stairs the musty scent of mice floods into my nose. I certainly didn't remember this from when I was younger. Looking to the left where the first bedroom is I pictured the whole room with all of grandmothers bookshelves infested with western and romance books. Then to my right there was another room. This room was where I always rested my head when I decided to stay the night. The old creepy baby blue funeral home floral wallpaper no longer remains. The carpet has indentations where the two queen sized water beds sat for over twenty years until about a week ago. I can still picture myself freshly showered bundled up in covers, cuddling up with my orange beanie kitty listening to grandmother reading me the story about a scared grey kitten. I never was scared when I stayed the night though because grandmother and grandfather's room was diagonally across the hall.

Hearing the front door open, I quickly dash downstairs. Once I got there grandmother was walking into the kitchen. "It needs a little work, but I think I can manage it," I say to her. "Okay, the place is yours," she replied. Finally, my childhood dream has come true.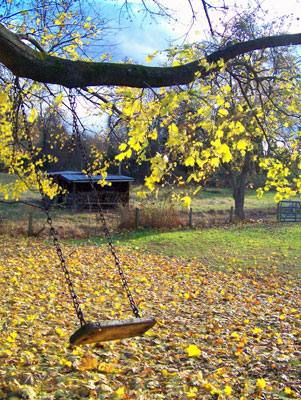 © Margaret G., Hillsborough, NJ