Life of a Student Athlete
May 11, 2012
Basketball, Football, Baseball are all very popular sports across the globe. As a kid, all I wanted to do was play sports and be part of a team when I grew up. Many young boys have the dream of becoming a professional athlete. When you finally get older you realize what it takes to reach that goal, you realize that you have to work really hard and be fully committed to reach your dream. Once some realize how hard you have to work, some quit but then again, some work even harder because that is what it takes. In the term "Student Athlete" the word student comes first. The term comes first because school is more important than sports. You not only have to work to better your skills at the sport, you also have to work hard to become a better student in school, education always comes first and you will need a backup plan in life because sports can only take you so far.

Many may believe athletes are just a bunch of big dumb jocks! Well they are wrong if they think that. Without good grades, athletes wouldn't be able to play those sports. Many college student athletes have to maintain a 3.0 GPA to stay eligible while playing that sport. It may seem like it isn't much but those students have to work very hard to maintain that GPA. This doesn't just apply to college athletes, this applies to student athletes on every level from middle school on up. In most cases you have to be passing in all classes to play any sport.

While trying to maintain their grades in their classes a student athlete has a very busy schedule. Their schedule requires good time-management; there are no days off when you are a student athlete. It requires lots of practice, traveling for games, missing classes, and yet they still have to keep their grades up and study very hard. People may think were lucky as athletes because we get to miss school but that just comes as a reward to all the hard work. Just like any other student, we have to make up the work we miss also.

As a student athlete, I must say it is hard trying to get enough sleep sometimes. There are very long days and short nights, because between practice and trying to keep my grades up to be able to play, it's kind of like a full time job. You must keep at least a 70 in all your classes to play in high school but I personally don't like settling for the minimum I would like to keep at least an 80 in most of my classes because I don't want to worry about being on the edge of failing. Therefore I do all my work, study very hard, all while working hard in the gym. I not only strive to be the best on the court, but I also strive to be the best I can off the court.

Why put so much pressure on yourself you might ask? Why not just be a regular student and not have to do so much work and be so tired? Is it really all worth it? Well sometimes I ask myself the same questions. Honestly, there really is not an answer to these questions. You just really have to love the sport you are playing and be a fully committed student athlete because if you aren't, well than I wish you the best of luck. Notice in the term "student athlete" the word student comes first. That is because without the school work you wouldn't be able to have a backup plan, and you need a backup plan because sports can only take you so far in life. It may be hard work, but I wouldn't trade anything in the world for it. Going to school and playing a sport you love, it really doesn't get any better than that.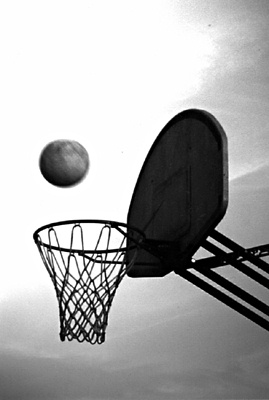 © Cassie H., Carmi, IL