Teka's Tragedy
May 10, 2012
February 2002, Clint, my brother got a dog named Teka who was then just a few weeks old. She was a blackish-grey Shih Tzu terrier mix puppy with a white chest. I still remember her running around the neighborhood with my family and I running after her, she was so full of life, obedient, basically the best dog anybody could ask for, and everyone fell instantly in love with her, she was part of our family.

Over the summer of 2006, I was spending a week with Melody, my sister. Ring Ring Ring. My phone going off, I read the brightly lit screen, which read Mom. "Hello?" I said, "Hello Chantel, I have some bad news." at this moment I didn't know what to expect but I heard sadness in her voice which led me to believe that this couldn't be good. "Uh-oh, what's wrong?" I asked, "Clint went to give Teka some food this morning, he found her hanging over the neighbors fence, lifeless." I got pale, tears in my eyes, sick to my stomach. "What?!" I said in a panicked voice. "Clint removed her, foam ran out of her mouth after he did, we are guessing she was trying to chase something, but her chain was too short." I hung up, crying.

My heart was broken, for a few days I bawled, I felt guilty because I didn't spend as much time with her as I should have. When I returned home, my family buried Teka in a pink blanket and placed her in her doghouse. Clint dug her a grave, we helped lower Teka in it and then covered the doghouse with dirt. Clint then found some wood pieces, painted it metallic silver and made it as a cross, then placed it over where she was buried. Each of us signed it, then in big bold letters read R.I.P TEKA JANUARY 1ST 2002-JULY 5TH 2006. A few weeks before she passed she gave birth to 3 beautiful puppies, which 2 were stolen.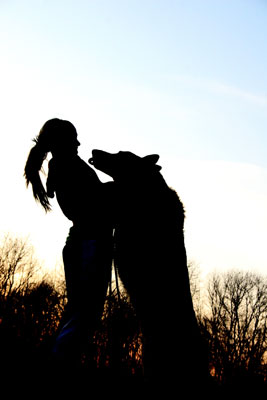 © Brittany U., Terra Alta, WV