Reborn
May 8, 2012
Life was good, 99 Problems by Jay-Z blasting through my Jeep's speakers, singing along with my friends. Everything seemed so perfect. Then, it happened.

From around a turn, a car's high beams pierce through the darkness of the winter night. Panic ensued. Quickly, I slammed on my brakes attempting to avoid a collision with the car, my jeep losing traction in the process. My jeep continued to slide, and slide, and slide, for what seemed like hours. As I got closer and closer to the end of the ledge of the road, it seemed clear to me that this would lead to my demise. Off the ledge the jeep went, airborne.

"Is this it? This is how it ends?"

A thousand questions raced through my mind as the jeep began to roll. The jeep made impact with the ground, upside down. My sense of invincible disappeared in that moment.

Thoughts of my mom, my grandma, my best friends came to me. Thoughts of weekend plans I had made just hours ago, without a care in the world assuming I would be alive then.

"So many things I have yet to say to people, so many things I have yet to do, so much life I still have to live. Why?"

"Will people remember me? What will they say about me?"

Darkness.

And then… Light. Bright light. I awaken. I look around at the scene around me, chaos. The car upside down, glass shards everywhere, blood all over me, friends in panic. One at a time, we slowly escape the wreckage, completely unscathed apart from a few minor cuts and bruises. I looked back at the mangled mess before me; my car, my freedom, my social life, had all been taken away in one fell swoop. The carefree living of senior year was gone. Despite all this, I realize this is it… this is my second chance. I slowly turn from the destruction, and look up to the night sky, deep in the stars, and beyond, and simply say…

Thank you.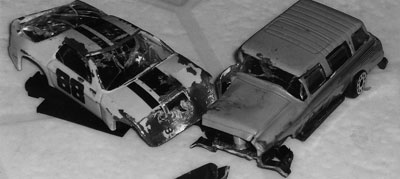 © Danny H., Chula Vista, CA