"Rebel with a Cause"
May 7, 2012
Too many times in my life can I admit that I've humiliated myself. It's a daily struggle to maintain an image of self-control in front of large masses of people. There seems to be one moment in my life that stands out among the rest; the night I met Mackenzie Foy.

Every person who knows me knows of my unhealthy obsession with the Twilight Saga. So you can imagine my state of well being when the news first surfaced that the WHOLE CAST and crew were scheduled to film the 4th and 5th installments of the franchise in Baton Rouge. Let's just say I was willing to do about ANYTHING to meet them.

In case there's any confusion, Mackenzie Foy is a ten year old who plays Renesmee Cullen (daughter of Edward and Bella Cullen) and appears in the 5th Twilight film, "Breaking Dawn Part 2". Of all the cast, she was an A Lister on my "Cast Must-Meet List." It's Edward and Bella's kid we're talking about. It all started with a little Facebook fan page titled, "Twilight Takes over Baton Rouge." A fan created page where people could post sightings of the stars and their location in Baton Rouge. I lived and breathed by the information given on this page. On one of my usual thorough checks; a girl with the "alias" Leyla Garcia had posted about her experiences bumping into Elizabeth Reaser (Esme Cullen) and Jackson Rathbone (Jasper Hale) in her apartment building. I quickly "friended" her and sent a message along with the friend request asking for ANY information on the whereabouts of ANY of the stars. Leyla more than came through for me. Not only did she help a stranger - she also provided apartments, floors and room numbers. I had hit the mother load. My life consisted of three things from that point on… eating, sleeping and trying everything to get in these apartments. This was not as easy as it seems; trust me. The apartment doors were always locked and the only entrances were from the underground garage or the doors that I had, literally, never seen a soul walk in or out of.

On a random night my mother and I were out strolling and came upon the apartment complexes. I stopped to show her exactly which complex a few of the cast members were residing. As I was doing so three girls emerged accompanied by, what looked like, their entire lives packed into about five bags for each of them. They quickly slipped a five-digit code in a hidden compartment and reached for the handle. And that was the moment that instinct kicked in. "Let me get that for you!" I said, reaching quickly for the handle. "We were just walking through." They nodded graciously and walked on in. They looked too innocent to comprehend what I was there to do, so I thought it best to leave them out of any questions I had. My mom yanked me back so hard I literally thought a five foot five tornado was behind me. "What the hell is wrong with you?" "That's breaking and entering, Chancely. This a private, secure building." My mother is my best friend, my closest ally, my everything, but I had no choice. Simply put, the heart wants what the heart wants. It was my first and last time to do so, but I willfully disobeyed my mother. "I'm going with or without you, so you better hop to it." Much to my surprise, she obliged and when I turned around to make a comment along the lines of "this is what real mother-daughter bonding is like." I quickly stopped in my tracks. I was greeted with eyes that made ice water run through my veins. We stepped into the elevator naturally, coolly. And pressed floor number four. When we stepped out of the elevator the atmosphere had changed, slightly, but changed none-the-less. Something or perhaps someone was different about this floor and you could sense it. My mother casually came to my side and whispered to look at the security cameras all around. I gave a quick nonchalant smile and a laugh, to give off an "Average Joe" look to anyone keeping an eye out. We walked up and down the floor one time. My mom was furious. "We're getting out of here. Do you know what would happen if they caught us? I can't believe you dragged us into this." As we approached the corner a soft elevator ding echoed throughout the hallway. As we rounded the corner, out of the elevator walked out, Mackenzie Foy, followed by her brother and parents. I went into shock. This couldn't be possible. This kind of thing happened in movies, not in reality. I did a double take and caught my mother's eye; letting her know all she needed to know. It was her. I placed my arm on her shoulder. "Are you Mackenzie Foy?" I asked shakily. "Yes." She said. I immediately burst into tears. "YOU DON'T EVEN KNOW HOW EXCITED I AM TO MEET YOU!!! WE DON'T EVEN LIVE HERE, WE JUST SNUCK IN TO FIND YOU." An inaudible record scratch was played in my mind. A look of terror entered her face.

Not many people realize the significance of meeting this ten year old and the effect it had on me. So much that it would bring tears of joy streaming down my face. When I finally regained composure. I asked for a picture. She said nothing, but gave her mother a look that read, "she has escaped from the mental asylum down the road, we can't get any closer". Her mom gave an uncertain nod and in one single flash I had what I came to get. I gave her a hug and wished her and her family a wonderful stay. Looking back, I could've done a million things differently. I could've kept my cool, asked her what it was like working with Rob and Kristen. How she liked her apartment, but I wouldn't. She will always remember me for this very reason.

Everyone who knows me, knows I have an unhealthy obsession with the Twilight series, but what they would never expect is, I'm much more of a rebel than you may take me for.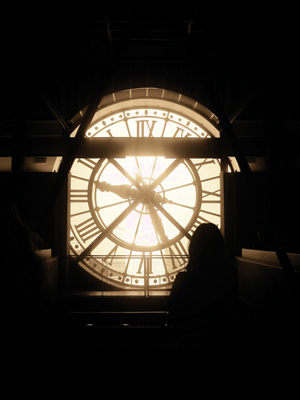 © Treza R., Kalispell, MT