Please Pass the Red Meat
MAG
May 1, 2012
Quinoa. It's a type of grain, full of carbohydrates and protein that really packs a lot of energy. It also tastes like mush. Unfortunately for me, it is another of my mom's latest food phases. It's the newest "flavor of the month," which (it seems) she selects at random from various online sources, or perhaps from her mother's own dated cookbooks and recipes. Her reasons for procuring a new exotic taste seemingly every weekend are as varied as the foods themselves. However, it's easy to track my mother's eccentric food phases back to a specific source: soy milk.

It didn't just start with soy milk, though the switch to the dairy alternative played a significant role in my mother's evolution from the everyday, "normal" types of food. But the milk was accompanied by a greater change in my mother's life: the switch from her favored athletic activity – jogging – to yoga.

Yoga, yoga, yoga. My mom fell hard for this exercise of the mind, body, and spirit. It wasn't just a physical practice, it became a lifestyle, and it affected everyone she interacted with – especially our family. But unlike soy milk, yoga didn't go away after a week. No, my mother pursued her love of yoga until she was a certified instructor in the ways of the om.

And somehow, yoga was the catalyst for a plethora of new, eccentric foods. My mother poured herself into her cooking, which I guess gave her more energy, which, of course, allowed her to do more yoga. It was a cycle. Every Sunday evening there would be a new meal to try. My older brother, being the pompous jerk he is (as well as a vegetarian), gobbled everything up with a sinister grin in my direction. He had no issue with the new foods, whereas I, a man of principle, dignity, and an undying love for red meat, ate as little of the foreign fare as I could without starving.

The actual meals often consisted of some strange fish, coupled with green vegetables that any child would cringe at, and a grain or bread with at least two accent marks in the name. Sometimes there would be no meat at all; my mother claimed we would get enough protein from the beans she served.

When I came downstairs near suppertime, smelling the many oils and spices she peppered our meals with, I would often feel close to tears. The anxiety that preceded meatless Sunday dinners was worse than any I had felt in my life. Needless to say, I couldn't stand much more of my mother's "phases."

But they were barely phases anymore. A phase implies a period of time with normalcy before and after. This was not the case with my mom's Sunday dinners. By late 2011 she had all but eliminated red meat from my diet, and my resolve was beginning to fade. I distinctly remember actually eyeing the spinach one night, thinking, Man, a little salt and that will sure go well with the salmon.

Then tragedy struck. In early November, mere weeks before the then-dreaded Thanksgiving meal, sure to deviate from the standard turkey tradition into one of my mother's own design, I was diagnosed with Type I Diabetes. We had caught it early – in fact, I exhibited no symptoms aside from a slightly elevated blood sugar level in the morning. Nevertheless, we took the news to heart, and I began to cut all concentrated sugar from my diet. This alone did not affect my mom's Sunday explorations with exotic food. But a saving grace came my way. There is one nutrient that helps lower blood sugar naturally, and it is very easy to get: protein commonly found in red meat.

Finally, victory was mine! No longer would I be faced with meatless dinners. No longer would I have to endure lackluster meals in which beans were substituted for meat. Things were beginning to look up for me. Instead of spending my Thanksgiving lamenting the fact that I couldn't partake in my grandmother's pumpkin pie, I piled my plate high with the darkest turkey meat and rejoiced in a meal made up of foods I could actually name.

Of course my mother's food phases still continue. Despite my being the most important member of the family (youngest child!), there are other family members for my mom to cook for. Quinoa is currently her flavor of the month, and I have already eaten at least two Sunday dinners that contained the mush as a main component. But, the difference remains. Each meal now has meat for me to eat – whether ham or beef or bison.

Yes, I have dramatized this story a bit. My mother is not the culinary tyrant I make her out to be, nor are her meals so terrible. I don't actually starve – in fact, I am stuffed with food almost beyond my will each night. I love my mom, and I deeply appreciate her efforts to feed me the best diet possible. But dang it if I don't love my red meat.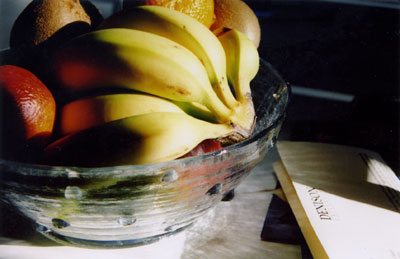 © Marty H., Bethesda, MD