Faith
April 27, 2012
The best game I've performed. Tears, blood, sweat, and heart. This is what I left on the court. I was playing for Oak Park High School. Last year it was a basketball game. We were down by 10 I was the best on the court. Coach put me back on the court. I came out shooting three pointers. The last three I shot I had doubt that it was going in, because this tall dude was running towards me and ran into me while I was shooting.

When I let go of the ball I hit the ground. As soon as I hit the ground I seen a lot of things; I noticed my friends jumping up and down cheering, I seen the Varsity coach saying good job, then in my head I said to myself that I hit an amazing shot and nobody on this court can stop me. That's when I noticed I just hit a 4 point play, it was an And-1. I was at the free throw line and a player from the other team said, "Dog this boy is weak he not good that was an lucky shot." I looked back and said, "No it's clutch and it wasn't lucky."

That shot had brought us back and we were back in the game. We were down by 2 points with 10secondds left on the clock. Through our last timeout I was in my heading saying I know I'm going get the game winning shot. And then I told coach to, "Give me the ball, I know I can hit this shot coach."

I had so much faith in my shot. I had faith that I was going to hit the game winning. At the end with the last finalsecondds my teammates didn't give me the ball. I was crush when we lost the game and when they didn't give me the ball. But even though we lost the game I still and always will have faith in my jumper.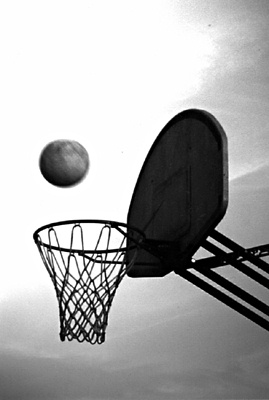 © Cassie H., Carmi, IL