My Companion
April 27, 2012
I've had friends over my lifetime that have come and gone. There's only been a select few that I've known and stayed friends with, throughout all these years.

But there is one that sticks out the most.

She and I have been friends for about nine and a half years now. She is one of my only friends that I've never fought with and love being around. I met her in the third grade.

Third grade is when I went from small and cute to skinny, tall, and awkward.

I had just gotten out of primary, where the girls had to wear jumper dresses and neck ties. I was now in elementary, I got to wear our schools colored plaid skirts and collared dress shirts.

I was now considered a big girl now, finally close to being like the big girls in middle school I so wished to be.

I was nervous as I strolled hand in hand with my mom. There was a skinny, petit, and blonde woman perched outside my classroom. She was wearing a name tag that said "Mrs. Angle". Mrs. Angle grinned at me and introduced herself; she told me that inside the classroom I could find my name on a desk.

When I walked in the classroom I noticed how the walls were colorful and decorated with motivational posters telling me to "Never Give Up!!" and "You Can Do It!!". When I found my desk, there was a girl resting on the desk right next to mine. Her head was down while she was rustling with her new school skirt. She had long pigtails that fell past her shoulder with bright red, black, and white barrettes dangling from the ends.

When she noticed me standing there, I saw that she was chubby. She had soft chocolate marshmallow cheeks and her body was a little pudgy. She smiled at me and I could see her chipped tooth right in the front.

"What's your name?" she questioned.

"Destiny, what's yours?" I asked timidly.

I found out her name was Tamia. We giggled for the rest of the day, getting to know each other.

Tamia and I were both physically different but on the inside we were one in the same. I had finally found someone as weird, awkward, and corky as me.

I didn't know that that would be the beginning of a friendship that is still going strong until this day.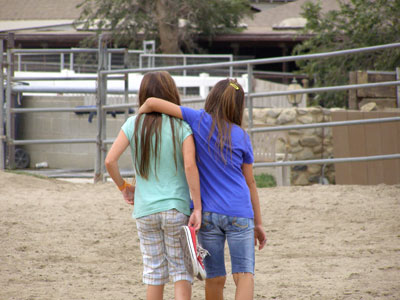 © Austin K., Studio City, CA