The Beginning
April 17, 2012
New shoes, new shirt, new backpack. My first days of elementary school were usually the same. With my handpicked garments laid out from the night before, I would jump up, full of ardor and excitement, at the first buzz of my alarm. Although I had tossed and turned until the wee hours of the morning, there was never any lingering sense of drowsiness once out of bed.

On those mornings, I had a tingling feeling in my stomach. It was a case of the so-called "butterflies." My mother urged me to eat more, but I rarely finished my cereal for I was too preoccupied with thoughts of what was to come. As I waited outside for the bus, I could see my mother at the front door, watching sadly, but with pride, as I embarked on the next ten-month chapter of my very young life.

Once at school, I would hustle inside, taking in that familiar but unique smell. It was a squeaky clean odor that seemed to radiate from all corners of the building. Fingers crossed, I would scurry into my new classroom, buried in thought and prayer for a well-liked teacher. I usually knew some of the kids in my class, but I always hoped that I would be surprised and one of my buddies would unexpectedly wind up with me, vastly brightening my prospects for a good year.

The room was spotless and well organized, a reflection of the time and care the teacher put in during those last few days of summer, before school officially started. Then came that paramount moment: meeting the teacher for the first time. I knew how important first impressions were. Trying to be as charming as possible, I would introduce myself bashfully, then scamper away to find my seat.

Lunch was a highly anticipated event. The teacher would make the class walk painstakingly slowly on what seemed like a mile-long trip to the cafeteria. At the slightest noise, we would have to stop and quiet down, which made me terribly fidgety. At last, with a sigh of relief, I would enter the frenzied lunchroom, choose a table, and then find my friends so that I could ask them about their morning. Doris, with her infamous and menacing three claps, would release the class to the playground after fifteen minutes of eating. At the first sight of us, Mr. Donahue, the most beloved of all lunch monitors, would set up an exhilarating game of flag football.

School would come to an end in the blink of an eye. Dismissal was invariably chaotic, and the bus ride was always exasperatingly long and noisy. But then, I'd arrive home, comforted by the sight of my mother at our front door, as if she'd been there all along, just waiting to hear the details of my very first day.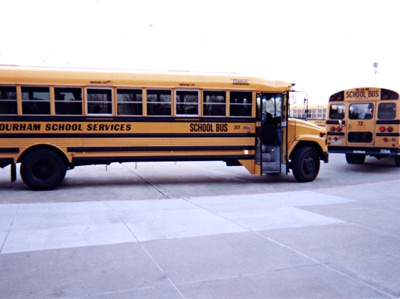 © Blake B., Highland Village, TX