Water Bombs
April 9, 2012
Summer is my favorite time of the year. I love the feeling of the hot sun on my skin. I go swimming mostly everyday. And I love enjoying the nature around me. But my most favorite thing about summer is seeing my family. Usually, every summer I go and see my family in California. Going to California gives me a great feeling because it brings back so many memories and I love the hot weather. Every summer we do something different. But I remember one time, my family came up to Washington to visit us. It was the summer of my seventh grade year. I remember at the time I felt so much older and I always flaunted off my age. I can't believe I acted like that. But after I think about it, a lot of seventh graders acted like that. I don't know why, it was just seventh grade. My family was supposed to be coming up on July first. I remember being so excited because my cousins were going to be here for Fourth of July. I love hanging out with my cousins, there so fun to be around. They can turn something boring into something fun in seconds! And that's usually because of my cousin Alex. Alex is my younger cousin. At the time he was around 12 years old and he is from my dad's side. Alex is defiantly the family clown. He is always making jokes or doing something funny. He is hilarious! Sometimes he makes me laugh so hard till I pee my pants. And literally he does sometimes. My other cousin Chanito is my oldest cousin. He was about fifteen at the time and he is Alex's older brother. Chanito is more of a laid back kind a guy. He has a fun personality too but not so crazy like his brother. He reminds me more like myself. We both love to have a good time and we love to laugh. But I guess I can say we can pass by as identical twins. Everyone says we look alike because we both have green eyes, light skin, and dark hair. Although it doesn't bother me, it seems to bother him because I know he doesn't want to be compared to a girl.

The morning of July first, I remember waking up really early that day. My mom and my dad were already up like usual. My mom was cleaning the house and my dad was outside mowing the lawn. My sister and my brother were still sleeping, which I was surprised because they usually get up before me. The sun was shining bright through the living room window so I knew today was going to be a great day. As I walked into the kitchen I asked my mom what time my aunt and uncle were going to get here. She said around one o'clock. She told me to make sure to clean my room before they got here. So I ran to my room and started cleaning my room as fast as I could because my excitement got to me. And plus, I wanted to get it over with. So after I cleaned my room and got ready, I checked the time. It was about twelve thirty. I got so excited and kind a nervous because I haven't seen them in a long time. At that moment I remember smelling a warm scent of vanilla coming from the kitchen. Every time I smell something good coming from the kitchen I knew my mom was making something delicious. As I walk closer to my mom she turns around and she's carrying a plate of flan. "Mhmm mom, that looks good." "Thank you mama but don't eat any yet. Wait till your cousins get here." "Okay!" I yelled with excitement. I went to my sister's room to see if she was up and getting ready. She was up but she was still in the shower taking forever like always. "Dominique! Hurry up their almost here!" "Okay okay!" After that, I went to the living room and decided to watch T.V till they got here. The next few minutes felt like forever. I was to anxious to even pay attention to what was on television. The next thing I knew I hear two honks outside. It was my family! I got up so fast I don't even remember leaving the living room. As I go outside I ran to my Tia and Tio and gave them huge hugs. "Hi miha, how are you guys?" "We're good, just happy you guys are here." Then I ran to my cousins and gave them both a hug at the same time. They both had big smiles on their faces. "Hey what's up?" Chanito says in joyful tone. "Nothing much just happy you guys finally came up to visit us! Do you guys want flan? My mom just made it right now." "Oh yes! I'm so hungry!" I giggled because I knew Alex would be hungry. "Okay well bring your stuff inside and ill show you guys to your room." So as I helped them unload their things into the house, I couldn't help but notice their reactions. It looked like they were both in aw when they saw my house.
"Uh, what are you guys looking at?
"Your house is so nice and big."
"Ha-ha, oh well thanks. My dad is constantly working on something new in the house. It's always a working progress for him"
"Yea I can tell!" Alex says in a sarcastic way.
They both followed me to the room that they were going to sleep in. The room was big enough for the both of them I thought. It had a king size bed, a walk-in closet, and a big T.V that I thought they would like.

"We're staying in here?"
"Um, yea is that okay?"

"It's perfect! Way better than our room."
"Ha-ha, well we just want you guys to feel at home. But uh, what do you guys wanna do for the fourth of July?"

"Um, I don't know. What is there to do?"
"Well we can go to the sundome and watch the fireworks, or we can buy some fireworks and fire them in-

"Wait, you can buy your own fireworks here?"
"Yea… Why you can't in California?"

"No they banned it in our state."
"Ohh, that sucks."

"Yea but at least we can do it here!" Chanito says in an excited way.
"Yup! We sure can."

As I help them finish unpacking their stuff my sister walked in. "Hey do you guys wanna go swimming later?" "Yea let's go!" I said. So we all went to the kitchen and had a slice of flan and discussed all the fun times we had together. My parents and my Tio's were doing the same thing. Later that day we went swimming and had a great time. Every day we went swimming at our local pool and rented movies every night. We all pigged out on my mom and aunts food. They both cook the best food ever! The next thing I knew, it was the day we've all been waiting for. Fourth of July was here! Everyone was scrambling around the house trying to get food ready for our barbeque and all the bathrooms were taken. My dad asked me to help him get the stuff ready for the night so I did. Then finally I had a chance to take a shower and get ready for the day. Afterwards my Tia took all of us kids to a firework stand to buy fireworks. My Tia said we could buy whatever we wanted. But I think we went a little crazy because she ended up spending around two hundred dollars, which is way too much for just fireworks. Then later that day we started the barbeque and most of us kids were lighting fireworks in the street. It was so much fun! We were using everything we bought one after another and after another. My cousin Alex brought out some fireworks called water bombs. We all looked at the instructions and it said to light them and then throw them into a bowl of water. Alex and I ran inside the house to find something to fill water with. We were looking in the kitchen cupboards trying to find a big enough bowl. We were looking everywhere and we couldn't find anything. So I go to the last cupboard and found a blender. I was so anxious to go outside and light some fireworks, we just ended up deciding to use it. So we filled up the blender with water and took it outside. Chanito was the first one to try it. He grabs one of the water bombs from the bag. As he opens it he realizes that it looked really big. He said, "Don't you think it's too big for the blender?" "No it should be fine." I said. So then Chanito lights the bomb and immediately throws it in the blender. All of us ran away from it thinking it would explode right away. As we watched it from a distance, nothing happened.
"Chanito did you light it right?"

"Yea I did!"
But still nothing happened.
"Well maybe you-
BOOM! The water bomb went off and the blender exploded! Glass flew everywhere and it spooked up the whole neighborhood. All of us kids looked at each other like we knew we were in trouble.

"Hey! What did you guys do?" My dad yelled.
"We didn't think it was going to explode!" I said.

"Well what did you break?"
"Well we got a blender and put water in it because we got some water bombs and it said to put it in a bowl of water but we couldn't find anything to put it in so we just grabbed the blender and-

"Okay well now you guys have to pick up all the glass and you guys are done with fireworks for tonight."
All of our faces filled with sadness and we thought our Fourth of July was ruined. After we finished cleaning up the glass we all went inside the house and sat on the couch feeling bummed out. No one talked or made a noise. All of us were looking down sighing in disappointment. My mom came in and offered all of us an ice cream. Usually all of us would have said yes in a heart beat but this time all of us said no. My mom was trying everything to cheer us up but nothing worked. So then she said, "Do you guys want to go to the sundome and watch the fireworks?" All of us looked at her. "Really?" eagerly I said. "Yes do you guys want to go?" "Yes!" We all yelled. So the whole family packed up to leave to the sundome. We all got our happy faces back. All of us apologized to our parents and they forgave us. We were so glad that we knew our Fourth of July would end like we thought it would. We were all together enjoying the show. Everyone was laughing and smiling. We were watching the fireworks saying oohs and ahhs. I looked at everyone and my heart filled with joy. And there I knew nothing was stronger than your own family.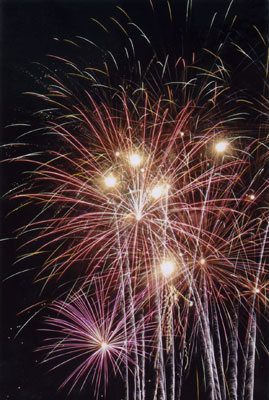 © Michael D., Hawthorne, NY