Our Cowardly Lion
MAG
March 16, 2012
Eight years ago, my family drove across Michigan to pick up a wriggling ball of fur. When we eagerly piled back into the van and started for home, the howling began. Back home we wearily allowed the new puppy to begin exploring. The howling did not stop that night, or the next. I had never imagined that a noise that loud could come from something so small.

Over time, the howling stopped, housetraining 101 was complete and life was good. During the last few years, our yellow Labrador, Sandy, has become my closest companion. Whenever she gets scared, she convinces herself she is a lap dog. I started calling her my "cowardly lion," because she is always scared of something. When I am happy, we go for walks and runs or cuddle on the couch. When I am sad, I squeeze the fluff out of her and she will just sit there until I get myself under ­control – she is an extremely tolerant dog.

A year ago, I noticed that something seemed off about her. I was the only one who noticed, at least at first. She acted confused and troubled occasionally, as though she didn't know where she was. Then she began walking into closed doors and hesitating ­before deciding to take even the tiniest step. I knew something was wrong.

When we took Sandy to the vet, we mentioned it. We were told she had cataracts forming which was no big deal. Then one day last summer, she tried to run around for the last time. I herded her into the garage where she promptly ran headlong into my mother's minivan. We decided it was time for a ­second opinion.

This time we learned that she was eighty percent blind in both eyes. Life was different after that. Her eyes that had been a strange mixture of honey and deep chocolate seemed glazed over with a hazy blue. She started walking into walls, stopped running around and for a while seemed to have no idea where she was. Oddly, she also began to teach me about life.

Once we knew she really was blind, we began watching for potentially dangerous situations. Whenever she would get too close to walking off the edge of the porch or the door was closed, we would call her. At first she did not understand why we were calling her what seemed like every thirty seconds, but being the smart pooch she is, she soon figured it out.

After a while, she had memorized our house and camper. She can feel her way around to avoid things or sometimes just try to charge through which can be hilarious. This is how she taught me to get what I want and never give up. If a blind, 70-pound Lab can somehow learn to find alternative methods to get what she wants, so I can too.

We never want Sandy to suffer, period. We talked about putting her to sleep if she became depressed. In all honesty, that is what we expected but she proved us wrong. Her personality is unchanged. She still plays with her toys, enjoys walks and cuddling. No matter how many times she walks into something or gets yelled at for being in the way, she is happy. She handles every curve ball life throws at her better than any person I have met. She taught me the true meaning of happiness.

Today, my cowardly lion is still one of the best gifts that I've had in my life. These days her naps are a little longer, cuddle time a little longer and her heart is ten times bigger. There are so many memories and lessons she has taught me that I can't put into words. People may say that a dog is a man's best friend, but they missed the part about being the best teacher too.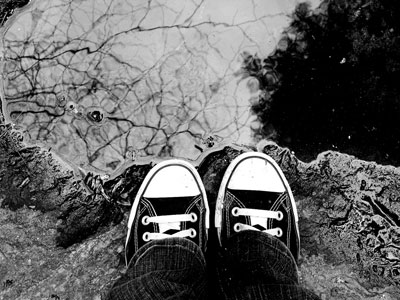 © Michelle B., Blairsville, GA