Mommy
February 5, 2012
I flung all the drawers open, tossing stacks of neatly folded clothes onto the floor; the piles of shirts and sweaters grew exponentially as my search grew more and more desperate. Where is that v-neck? Did Eliza borrow it and not give it back? Did I leave it at a friend's house? The possibilities flashed through my mind. My search felt futile, the shirt might as well have grown legs and walked off.
Mid-search, my hands froze. I paused; I grabbed onto a creaky wooden drawer for support. Now I remembered. I'd left that shirt in Peru. Not left it exactly, but donated it to a seven-year-old Peruvian girl I met at an orphanage during my five-week stay.
The memories began to flood back, so that's where my other shirts have gone. The whole thing seemed kind of bittersweet. Admittedly, I wished for a split-second that I still had the shirt to wear that day, but that feeling was quickly overpowered by nostalgia for that summer. My mind wandered back to Selena, the girl who'd caused me to leave half a wardrobe in a foreign country without a second thought.

***
7/19/10
The walls were turquoise. The little patch of grass in the center of the cement court was the only area of the orphanage free of toys. Miniature cars were parked in all corners; balls, dolls, and plastic food were scattered everywhere else. Gaggles of children ran amuck as my thirteen-member group was waved through the gate into the play area. We were completely overwhelmed by the chaos around us, and the inability to communicate with these foreign children only intimidated us further.
After introductions and meek attempts at conversation, we were set free to play amongst the children. Moments later, I felt a tugging at the leg of my pants and I looked down to see a little girl with her dark hair twisted into two braids. Her magenta tee-shirt looked as if it had been handed down one too many times, and her pants, which had been torn to the point where they could pass as shorts, hung loose on her tiny hips. She mumbled something to me in Spanish and I crouched down, though I knew her words would be meaningless to me, regardless of how close I got to her.
My eyebrows furrowed and she could tell I didn't understand. Forcefully, she grasped my hand and pulled me towards an empty dollhouse. I sat down before the dirtied plastic as the girl dug around inside, finally realizing that it was vacant. Aggravated, she stomped her foot and ran to the ball bin; she toted back a shiny blue bouncy ball that barely fit in her teeny hands. She took a few steps back before lightly rolling it to me. This game of pass went on in silence for ten or so minutes before one of the boys from my group emerged from a back room hidden within a monstrous Shrek costume. The kids went wild, including the girl who had taken a liking to me. She shrieked and grabbed me, yanking me toward the extremely obvious Shrek imposter and motioning for me to pick her up. I hoisted her into my arms, and from the safety of my grasp, she threw herself at Shrek. I followed her directions around the court, chasing after the sweating Shrek-boy as she giggled in my arms. As our visit wound down, I learned the girl's name:
"Me llama Selena" she said to me as she hugged me goodbye.
"Me llama Susan" I responded, embarrassed by my weak accent. She smiled.
"Mommy," she whispered in my ear as I got up to leave. At the sound of that one word, the pulse of my heart stopped for a moment and I felt something that can only be described as joy and sorrow simultaneously. To know that I was the closest this girl would ever have to a mommy broke my heart, yet to also know that I was worthy of the title 'mommy' within a mere hour of meeting her was beyond gratifying.

7/30/10
It was our second visit to the Miraflores Orphanage in Lima, Peru. As soon as we were buzzed in, my group burst into the play area and immediately peeled off with children we had met on our previous visit. Selena found her way to me and was glued to my side from that moment on. At one point, we were playing 'hot potato' and I was eliminated. As I moved out of the circle to make room for the cluster of others who were still in the game, Selena yelped with disapproval and threw her arms around me. In an act of solidarity, she took herself out of the game, plopped herself into my lap, and gave me a wet kiss on the check. She went on to announce-in a most obvious manner-that she was no longer interested in this ridiculous game.
Selena began to pick at the array of rubber bracelets that covered my wrists. She'd snap them, giggle, then try to slip them off my wrist and discretely slide them onto her own. At first I protested, but the sad eyes that peered back at me when I attempted to retrieve my bands were irresistible. I ultimately gave in, allowing my seven year old, Peruvian friend to become the proud owner of my twenty-five piece bracelet collection. I tried to warn her of the dangers that came from gnawing on the bracelets, but my words were lost in translation and before long, one bracelet after the next thrashed about violently between Selena's chompers. I giggled and shook my head in joking disapproval as she jumped from my lap and bounded to show one of the orphanage volunteers her newest accessories. They smiled and nodded at me in silent gratitude. I nodded back before being swept away by Selena on another wild adventure around the playground. "Mommy, mommy, a qui!" She clamored, pointing at one of the miniature cars. I followed the sound of the name she had given me and watched as she climbed into the car, motioning for me to push her. Unbeknown to me, this car was a menace.
Selena sat in the driver's seat, abruptly turning the wheel in every direction possible as I blindly pushed the vehicle, pressing onward as the wheels thrashed back and forth in response to her unwieldy steering. My legs grew heavy and exhaustion overcame me. After I rescued the car countless times from impending danger- walls and small children-the announcement that it was time to leave was almost a relief. But by the time Selena leapt from the car into my arms, my short-lived gratitude had vanished. I knew this feeling. I wanted to take this girl home with me, despite my knowledge of how impossible and ridiculous such a thought was. I couldn't help but feel helpless as I walked out the door of the orphanage, knowing that I would be leaving half of my heart in the hands of this seven-year old child. Nothing would ever hurt as much as knowing that I would have to leave behind someone so meaningful to me, yet I had no feasible way of bettering this orphan's life in the way that she had mine besides playing the mommy of her fantasies for a mere hour.

8/09/10
The day dawned of our final visit to the Miraflores orphanage. A bittersweet feeling lingered in the air as we greeted our young friends. They had no idea that this would be the last time they would ever see us, and no one had the heart (or the words) to tell them. My "child" as Selena had come to be known by group members, found me instantly and we wasted no time. Since it was our last visit, special activities had been set up in all corners of the court for the children to enjoy. Selena shoved a paintbrush into my hand and signaled for me to paint her face with butterflies and hearts. In return, she painted mine identically. Together we chased balloons that I attempted to twist-to no avail-into various shapes. A heavy feeling lingered in my chest as I watched Selena frolic around the orphanage, pulling my hand and talking to me in her still-incomprehensible Spanish. I longed to understand her every word, to be able to communicate with the little girl who brought me so much delight, but our only form of communication was through our actions.
We made the best of our final hours together and before the end of our visit, I slipped a too-big rope bracelet onto Selena's wrist. On the bracelet were my initials: S.C.K. Though Selena knew me only as mommy and would never understand the significance of those letters, she seemed to recognize that this bracelet was how she would keep me with her, even when I wasn't really there. She admired my gift before throwing her arms around me and thanking me a million times over. A sad smile crossed my face as I brushed a blurry tear from my eye; her appreciation for such simple things was too much to bear. My guilt at her hopeless situation was overpowering. I felt that no matter how hard I tried, my acts of kindness were futile. She would grow up on her own in the poor country of Peru, without a family to give her love and guide her.

As I packed my belongings, preparing to depart from Peru, I realized that my suitcase was overstuffed with tokens I had accumulated over the course of my trip. Rather than cramming everything into my bag, I decided to remove the articles of clothing that were well-worn and well-loved, yet would serve no further use for me back home. My layers of super-soft long sleeves and North Face quick-dry tee-shirts would be unnecessary in the mild climate of suburban New Jersey. These clothes belonged here, in the Andes Mountains and on the wind-whipped streets of Lima. I compiled a hefty stack of clothing and one fuzzy blanket (that had been given to me on the plane ride over) and rubber banded them together. Atop the stack, I attached a letter addressed to my Selena. With the help of a Peruvian local, I had translated everything I wanted to say to her and wrote it down. It was highly unlikely that she would be able to read the note herself, and the translation of my words was undoubtedly imperfect, but the possibility that in a week, or a month, or a year, little Selena would be able to finally understand all the feelings and emotions that she had inspired within me, gave me hope.
***

Still holding fast to my drawer, I sank to the ground. Smiling wistfully, I pictured Selena going about her day in an old Ralph Lauren v-neck that has my initials on its tag. She won't know how they got there and it is doubtful that she will even remember me in five or ten years. But the knowledge that my old clothes, my bracelets, and my time, were even a contributing factor to the amazing person that I hope Selena will one day become, gives me a sense of pride that no language will ever be able to translate.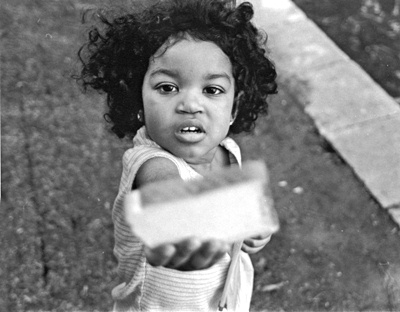 © Cynthia M., Washington, DC