I'm Only Human
January 28, 2012
It's dark and quiet outside, a sure sign that day has turned to night. Everyone is asleep, but I lie awake on my bed as I stare up at the ceiling, thinking. I'm looking up, but I'm kind of feeling down. I try to block out the drip-drop of the leaking faucet in the bathroom and the barking dog next door that won't stop for the love of God. It's dark and quiet outside but thoughts instantly flood my mind as I expect them to. They range from "What's for dinner tomorrow?" to "What am I doing with my life?" I immediately drown in question marks and indecisions.
I stir a little in my sheets and look to my right as the figure of a little girl starts to materialize in front of me. This little girl, wearing ribbons in her hair and a dress resembling Mary Poppins', is quite familiar as well as vague. Her innocent eyes stare back into mine and a dose of nostalgia hits me instantly. She is me. She is my childhood. She is simplicity, innocence, and pureness. She is my still-developing and carefree spirit. She is the smell of warm chocolate chip cookies fresh out of the oven. She is the sound of uncontrollable laughter and giggles during a tickle fight. I realize how much I missed her, that beautiful little girl who only knew the good in the world. Her silhouette blurs as tears gain at the corners of my eyes. I blink to find that she is gone. My childhood is gone.
I wipe my eyes and turn to my left only to see the shape of a man, though he is out of focus. I feel love. I feel security. He is my lover, husband and best friend. The shadow of a wedding ring wraps around my finger promising me an eternal companion and soul-mate. Questions instantly drown my mind: Will I ever find that one who completes me? Will I ever find that true love everyone years for? Will I ever love and be loved in return? Am I promised that forty years from now, we will be sitting side by side on our porch watching our grandchildren roam the yard, straight off a movie scene? The questions pile and I feel like exploding from the weight of the uncertainty. I shake the thoughts away and he disappears. I feel the ring tightly closing in around my finger from the stress of doubt, and then abruptly it vanishes.
I shift to sleep on my belly, my head buried in my cold pillow. I close my eyes and another girl pops into view, only this girl isn't me. She resembles me in ways and she looks at me with loving and appraising eyes. She is precious and my heart automatically goes out to her. A love I have never imagined before floods onto me and it hits me that it is the love of a mother. She is my baby…my life. She is mine. Will I someday feel that dear and automatic love for a child? Will I be a good and caring mother, an aspiring role model? Will I even be given the opportunity to have children who inside and out are better than I am? Will I someday stand back as a proud mother and watch them shine? In the middle of my mental self-interrogation, she angelically smiles and too-soon skips away.
Recovering, I shift in bed to face the ceiling once more. My future starts to illustrate itself before me and I start to think again. What will I be when I grow up? I smile to myself because I only wish I could answer that question. Do I want to be a Pharmacist? Perhaps a lawyer? Maybe an accountant? How about a psychologist? So many options and opportunities color the ceiling and I think to myself, do I really have to choose? I stand waist deep in my thoughts, pondering the questions and uncertainties of life. How will my future look like? Will it be dim and boring? Will it be spectacular and promising? Who will I be? Who do I want to be? The shape of a woman starts to form on the ceiling and she smiles faintly down on me. She is me. She is my future. And although I am incredibly uncertain at the moment, the woman looking down on me is confident and well contained. When I look at her, I see experience. I see success. I see a human. I mentally ask myself, will I ever be like her? Almost as if she had read my mind, she responds understandingly with a simple nod as she fades into the darkness…into the quietness. I close my eyes once more and finally fall asleep into the dark and quiet night.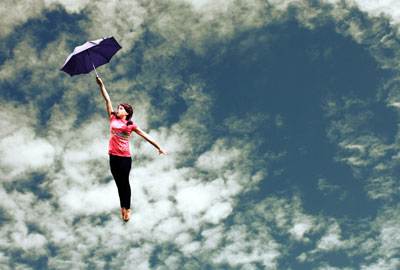 © Sandy H., Woodbridge, CT